These healthy Reese's eggs are the vegan gluten-free version of the classic, but taste just as good (if not better), and are made with simple ingredients.
I grew up eating Reese's as a kid because they were my favourite candy. The mix of chocolate and peanut butter is just the perfect mix. It's so creamy, smooth, and melt-in-your-mouth delicious. So naturally I had to recreate their chocolate peanut butter eggs – but made it vegan and slightly better for you. The result? A delicious healthy Reese's peanut butter egg you can make with just 6 easy ingredients in one hour, which is the time your peanut butter eggs will spend in the freezer so they can be a delicious treat for you to enjoy.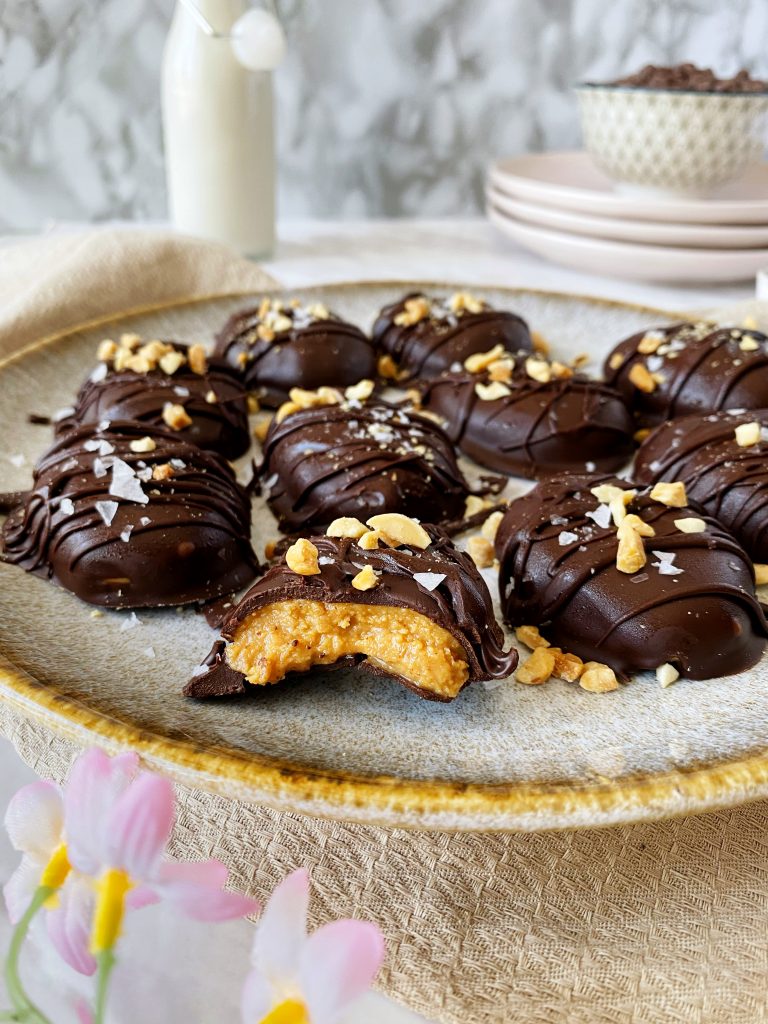 Ingredients needed to make your Healthy Reese's eggs
Natural Smooth Peanut Butter. The star of the show. This is the main ingredient for the filling of your peanut butter eggs.
Maple Syrup. To give the peanut butter filling a sweet flavour.
Almond Flour + Coconut Flour. Adding this to the peanut butter & maple syrup is what makes you capable of forming your dough into eggs!
Chocolate (+ Coconut Oil) . For the delicious chocolate coating! Adding a tablespoon of coconut oil makes the chocolate extra smooth for when you dip the peanut butter eggs inside to coat.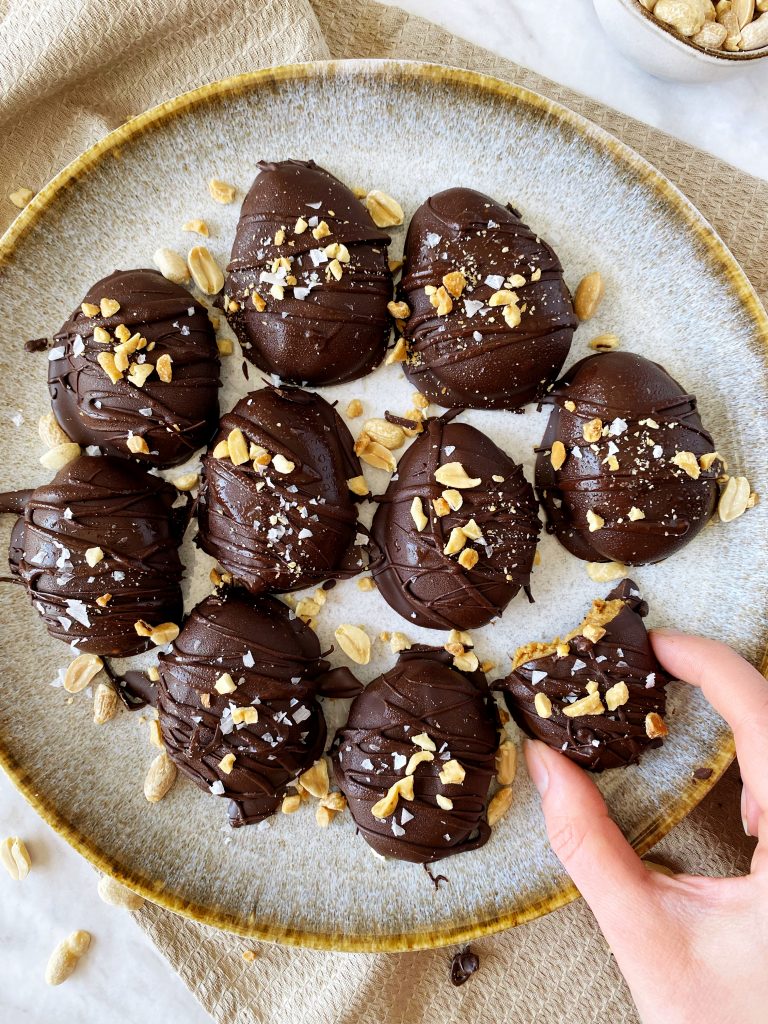 Tips on making the perfect healthy Reese's Eggs
Freeze peanut butter filling for at least 30 minutes before dipping in melted chocolate. The chocolate will be warm, and it will soften the peanut butter filling. This will make it hard to dip in chocolate while keeping the egg shape.
Make your eggs thick in height, a least 1/2 inch thick. This will give you a delicious peanut butter-filled bite of your healthy peanut butter eggs!
Drizzle extra chocolate over the chocolate coated eggs for a cute and easy design. Adding the extra chocolate drizzled on top of the chocolate coating gives the healthy peanut butter eggs a fancier look, with added chocolate flavour. Who could say no to that?
Top with some flaky salt. This will bring out the sweetness in the chocolate and give a perfect sweet and salty flavour.
Pro tip: Add some crushed peanuts or any nut of your choice on top of the egg for added flavour and crunch!
How to store your peanut butter eggs
Place your peanut butter eggs in an airtight container in the freezer. They will last 1-2 months. You can also place them in the fridge for up to one week, but I don't recommend this as they will be more melted than if they are kept in the freezer. Leave out the egg for about 5 minutes from the freezer before enjoying.
---
Healthy Reese's Eggs (Vegan + Gluten-Free)
These Healthy Reese's eggs are the perfect vegan and gluten-free freezer treat. The mix of sweet and salty from the chocolate and peanut butter makes for a mouth-watering no-bake dessert.
Ingredients
1

cup

smooth natural peanut butter

2

tbsp

maple syrup

1/4

cup

almond flour

2

tbsp

coconut flour

1 ¾

cups

chocolate

(chocolate bar or chocolate chips work)

1

tbsp

coconut oil,

melted

Flaky salt,

to top (optional)

Crushed nuts,

to top (optional)
Instructions
Line a baking tray with parchment paper and set aside.

In a medium-sized bowl, add smooth peanut butter and maple syrup and mix together with a spatula or spoon.

Next, add in almond flour and coconut flour and stir until a soft dough forms, and can be shaped into an egg.

Using a tablespoon, scoop peanut butter filling and roll into a ball in your hands, then place on the parchment paper and slightly flatten. Make sure dough is about 1/2 to 1 inch thick. Then, round the edges and shape as an egg.

Repeat for remaining dough and place in freezer to harden for at least 30 minutes.

In a small bowl, add chocolate and coconut oil and melt in the microwave in 25-30 second increments, stirring between each increment until fully melted and smooth.

Remove peanut butter shaped eggs from the freezer, and using a spoon and fork, place peanut butter eggs in chocolate on one side, then flip to coat the other side, then place back on parchment paper. Repeat for remaining eggs, then place back in the freezer for about 20-30 minutes.

Once chocolate coating has hardened, use remaining chocolate to drizzle over chocolate peanut butter eggs. Top with some flaky salt and crushed nuts (optional) and place back in the freezer for 10 minutes.

Enjoy!
Notes
How to store: Place healthy Reese's peanut butter eggs in an airtight container in the freezer for up to two months. They can also stay in the fridge for up to one week.