Chewy vegan gingerbread cookies make the most perfect holiday dessert! It's not the holidays in my house without some gingerbread cookies. They are the first things to go on the dessert table and are so easy to make! They are also great if you or anyone you know has a nut allergy, as these cookies are entirely nut-free!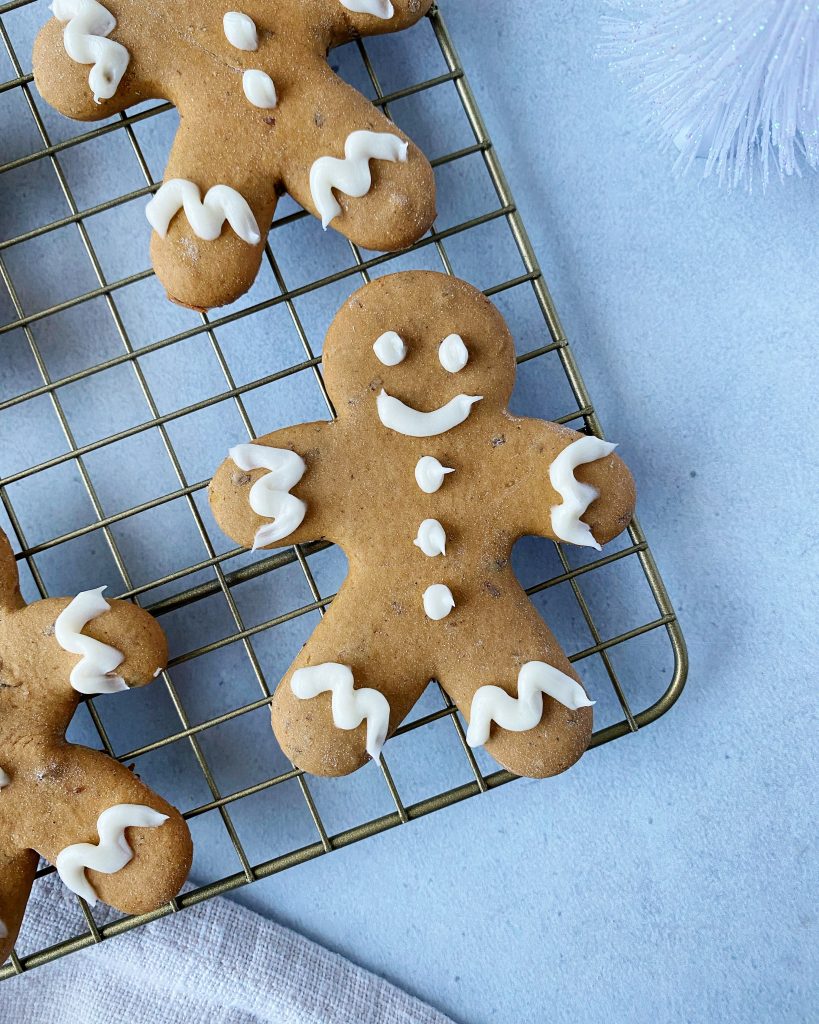 What ingredients do I need to make these chewy vegan gingerbread cookies?
All-purpose flour.
Flax seeds. This will be used as your egg replacement mixed with water.
Applesauce. For some sweetness.
Molasses. For that gingerbread flavour.
Vegan butter. I love using Earth Balance!
Cinnamon and allspice. I love using this mix because it adds so much flavour to the cookies!
Salt.
Baking Soda.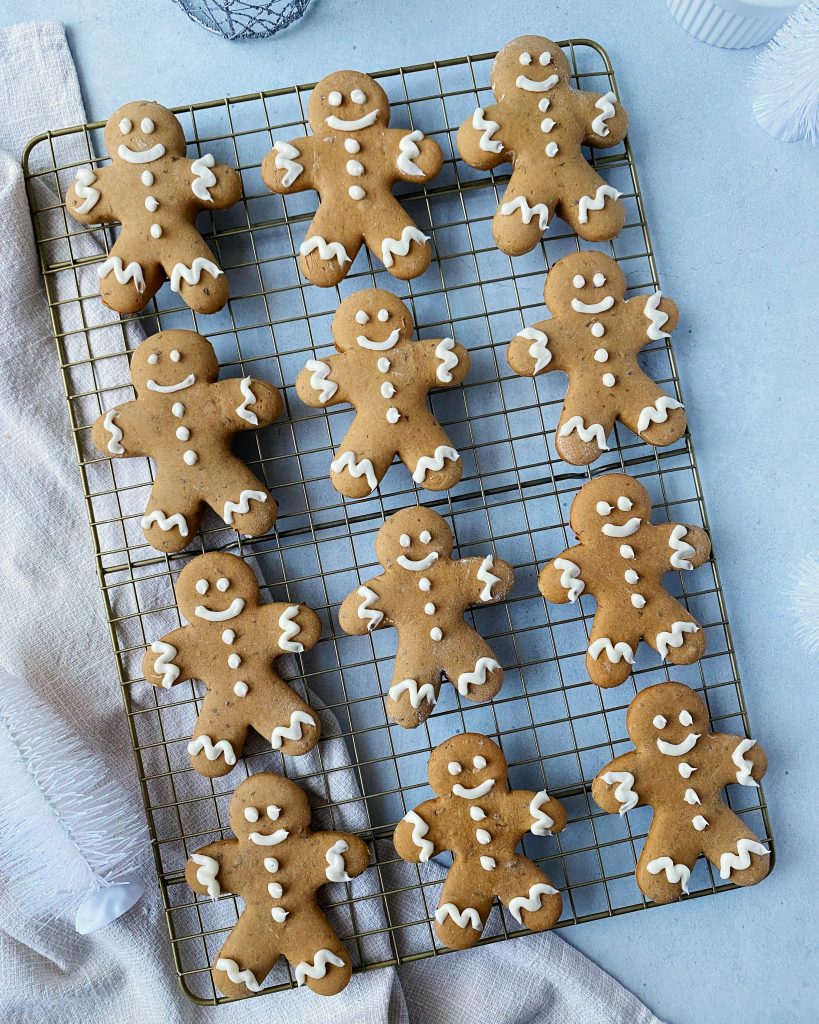 Tips for making chewy vegan gingerbread cookies
Use a hand or stand mixer. I do not recommend mixing this batter with a spatula only. You need a hand mixer or a stand mixer to be able to mix the dry ingredients into the wet.
Slowly add your flour. The total amount of flour in this recipe is 3 1/4 cups. I add in 2 1/2 cups to my batter first, leaving aside the rest of the flour. Once the dough forms a sticky ball, I transfer the dough onto a floured surface, and slowly add in the remaining flour while I knead the dough. You want to press and punch the dough enough to mix in the flour.
Make your cookies 1/4 of an inch thick. You can make your cookies a bit thicker if you'd like, as they will be soft. However, if you make them too thin, they may be too crunchy.
Sprinkle flour on your cookie cutter. Your dough may get stuck inside your cookie cutter and not come out onto the baking sheet. Make sure you lightly dust flour on the rim of the cookie cutter before cutting out your gingerbread cookie.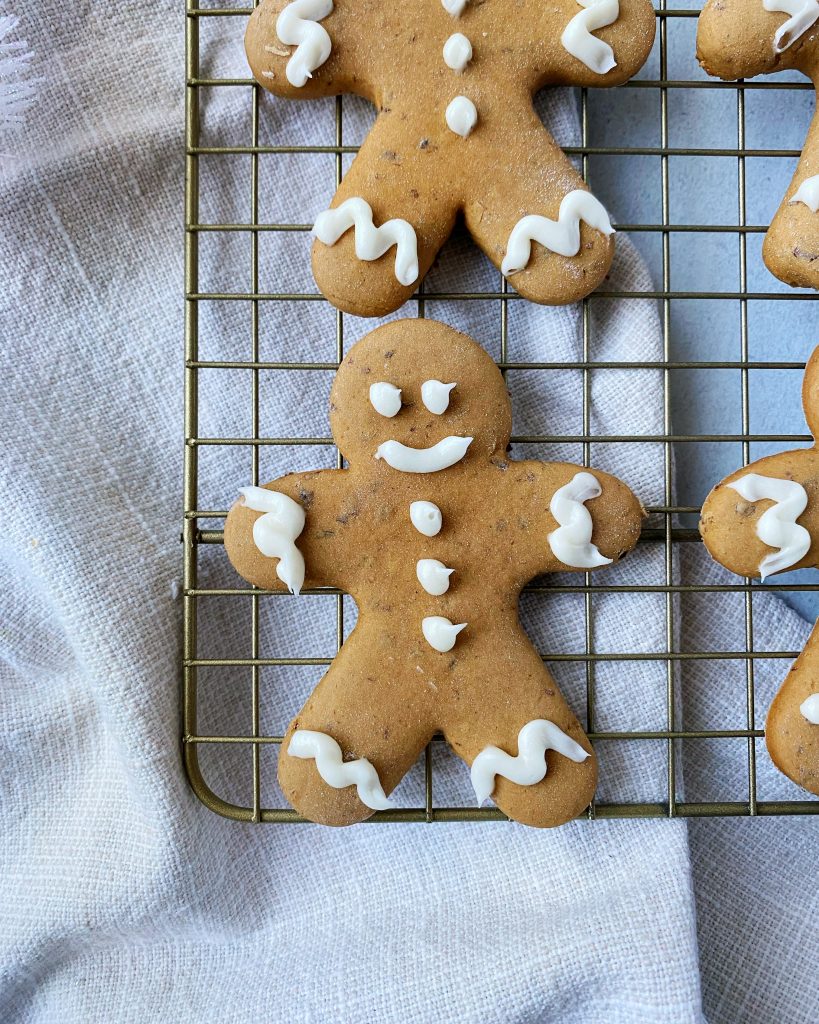 How do I store my gingerbread cookies?
To store your chewy gingerbread cookies, place them in an airtight container and keep them in the fridge. They last up to one and a half weeks in the fridge. If you would like to freeze them, place them in an airtight container, then place the container in a bag and tie the handles in a knot. Place in the freezer for up to two months.
Craving More?
---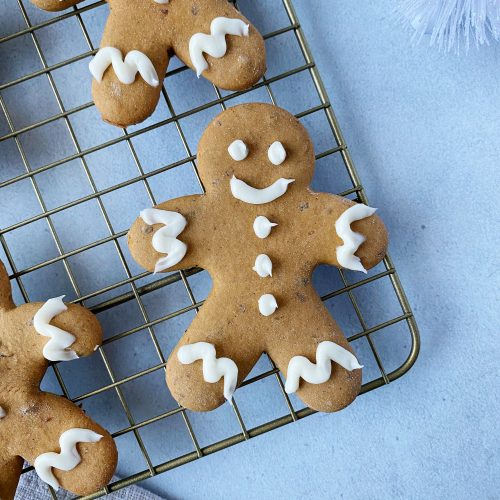 Chewy Vegan Gingerbread Cookies
These Chewy Vegan Gingerbread Cookies are a delicious treat to enjoy this holiday season! They have a delicious flavour from spices like cinnamon and allspice. They are so soft and take only 10 minutes to bake!
Ingredients
2

flax eggs

(2 tbsp flax seeds + 6 tbsp warm water)

1/2

cup

brown sugar,

packed

1/4

cup

maple syrup

2

tbsp

applesauce

1/4

cup

molasses

2

tbsp

vegan butter,

melted (I use Earth Balance)

2

tsp

cinnamon

2

tsp

allspice

(or pumpkin pie spice)

1/4

tsp

salt

1/2

tsp

baking soda

3 3/4

cup

all-purpose flour,

+ more for rolling out dough – using scoop and level method* (see notes)

1

tub

icing of your choice
Instructions
Preheat oven to 350ºF.

Line a baking tray with parchment paper and set aside.

In a small bowl, make your flax egg by combining 2 tbsp flax seeds with 6 tbsp warm water. Let sit for 5 minutes.

In a medium-sized bowl, add in flax egg, packed brown sugar, maple syrup, and applesauce and mix with a hand mixer (can also use a stand mixer or whisk) until well combined.

Next, add in molasses, melted vegan butter, all your spices, salt, and baking soda. Mix well.

Next, measure 3 3/4 cups of flour. Slowly add in the flour by the tablespoon to your batter and combine with your hand mixer. The batter should be sticky, but still form somewhat of a ball.

Once you notice the dough becoming harder to mix and it forms a ball, flour your work surface and place the dough on the countertop and begin mixing in remaining flour with your hands and knead the dough. Make sure you mix in all of the flour well.

Once your dough is soft and not very sticky (you are able to roll it with a rolling pin without the dough getting stuck), roll out your dough to 1/4 inch thick.

Place your cookie cutter in a bit of flour, and begin cutting your gingerbread cookies. Cut and place on your lined baking tray. Repeat for the remainder of the dough.

These cookies do not grow lengthwise in the oven, so you can place them 2 finger widths apart. Bake cookies for 10-12 minutes, until cookies are soft and fluffy and the bottoms have browned slightly.

Once cooked, remove from the oven and let cool for 15 minutes. If you want to ice them, let your cookies cool for about one-two hours, or until they're cold.
Notes
*scoop and level method for flour: scoop flour into your measuring cup/spoon but do not pack it down! Fill up measuring cup/spoon all the way to the top and use a knife to remove excess flour. This measuring method makes your cookies super chewy and soft. How to store: place cookies in an airtight container in the fridge for one week, or leave them out on your counter in a container for a week.
To freeze, place cookies in an airtight container and then in a bag. Tie the handles of the bag together, and place in the freezer for up to 2 months.
*I am an amazon affiliate partner, and any purchase you make on this post makes me earn a commission. Thank you for your support!*