Vegan quinoa black bean salad is the perfect easy dinner idea. While the weather starts to warm up, you won't want to spend hours cooking in the kitchen. This quinoa salad recipe is the perfect vegan dinner idea or healthy side dish, and makes for delicious leftovers during the week. All you need to make this is some quinoa, black beans (or any bean you'd like), some frozen veggies, garlic, and spices!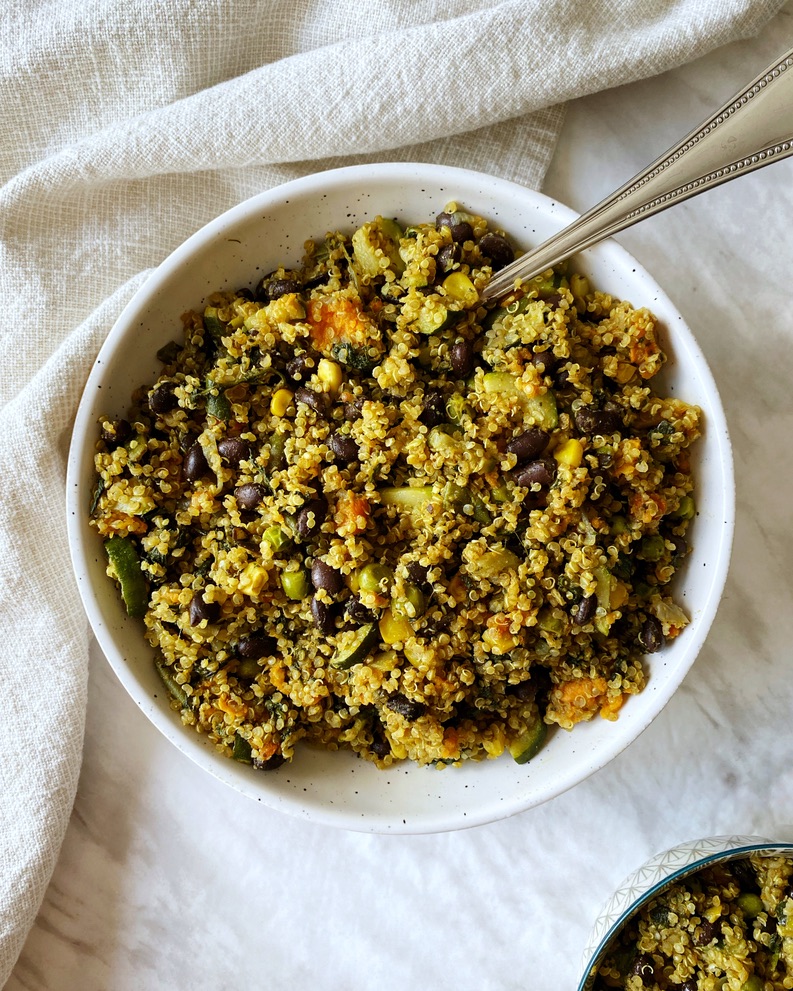 I love one-pot recipes because there are less dishes to wash and everything can just be combined into one (I think everyone loves one-pot dishes because there's less dishes to wash, correct me if I'm wrong!) Aside from doing less dishes, it's a great, easy vegan dinner packed with vegetables and protein. Quinoa is an incredible grain that is full of fibre and protein. Plus, the black beans add an extra protein boost. Quinoa is one of my favourite grains because it's so filling and tastes so delicious! Especially in vegan meals, you want to optimize your protein intake and make sure you are making healthy and satisfying meals.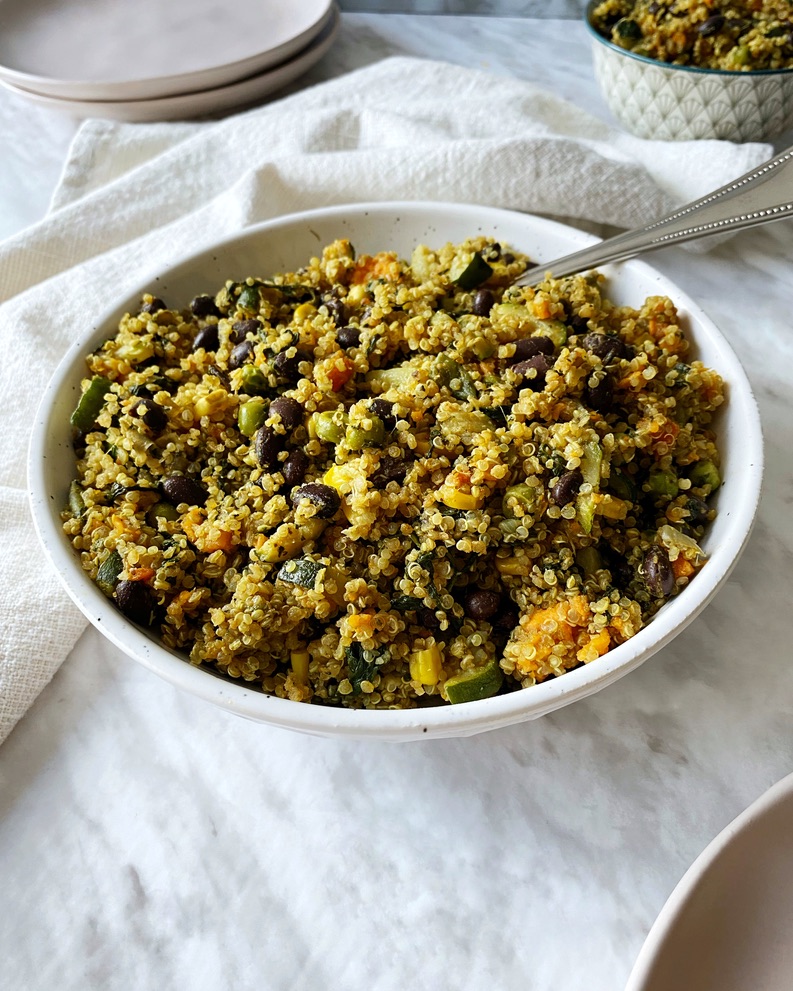 Ingredients needed to make this quinoa salad recipe
Quinoa. The main ingredient in this healthy quinoa salad. You can use another type of grain, but this is what makes the recipe gluten-free!
Olive Oil. This will be added to the quinoa salad mixture to give it some flavour and keep the quinoa fluffy.
Garlic Cloves. For added flavour and health benefits (hello, immune booster!)
Onions. For an added boost of flavour!
Zucchini. To add some greens to this dish! I love adding a fresh vegetable to this mix, but you can omit this if you would prefer to only use frozen veggies.
Frozen Veggies. I used a mix of peas, carrots corn, but you can add whatever you'd like. If you want to add some fresh vegetables like zucchini or bell peppers, you can definitely add this to the quinoa salad!
Black Beans. I used canned black beans and simply added it to my quinoa mixture. You can use any other type of beans you'd like such as chickpeas, lentils, white beans, red kidney beans, etc.
Spices. Salt, pepper, turmeric, garlic powder, onion powder, cayenne pepper, and nutritional yeast are the spices I added to this dish. You can add whichever spices you'd like to the mix!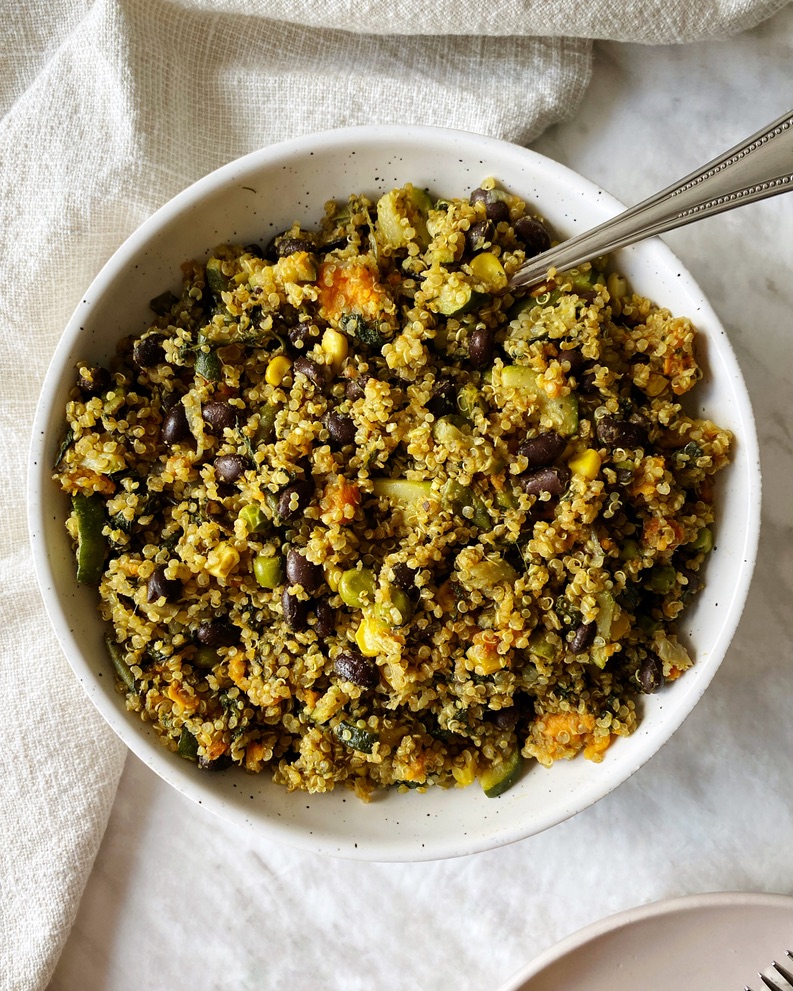 Tips to make the best easy vegan black bean quinoa salad
Let quinoa absorb all water in the pot. When cooking your quinoa, let the water boil then add in your quinoa. Stir occasionally and close the lid of your pot so the quinoa can absorb all of the water. After 15-20 minutes, the quinoa should have absorbed all of the water and be fluffy.
Cook your frozen veggies first in your pan. Once the quinoa is cooked, leave it aside in the pot and cook your frozen veggies first in a large pan. Once the frozen spinach, peas, carrots, and corn are cooked, add in your cooked quinoa.
Add your spices last. I love adding my spices last because everything is completely mixed together, and now you can taste test to see if you need to add any more spices. If you add to much salt, pepper, etc. to your vegetable mixture and quinoa, then add them together, it will be too salty. So we save the spices for last!
How to store your quinoa salad
Place your vegan black bean quinoa salad in an airtight container for up to 5-7 days. You can freeze it as well, and it will last about one to two months. However it is best to eat this meal for the week since the beans will be best if they are eaten fresh.
If you love easy and healthy recipes like this one, you will love my Sweet Potato Chickpea Buddha Bowl!
---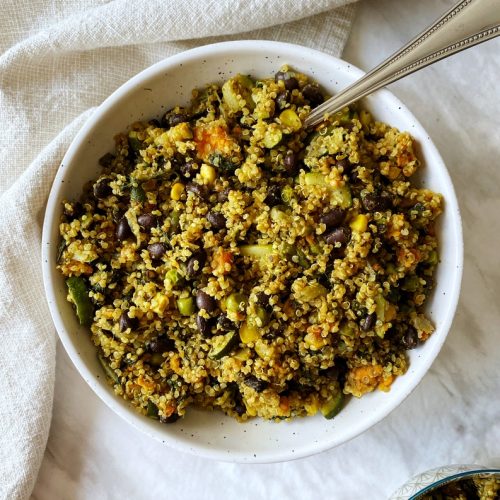 Vegan quinoa black bean salad
This easy vegan black bean quinoa salad is the perfect weeknight dinner idea. Made with plant protein and filled with fibre, this dish is sure to satisfy your tastebuds. It also makes the perfect side dish to enjoy with any meal!
Ingredients
For the quinoa
1

cup

uncooked quinoa

2

cups

water

Salt,

to taste

1

tsp

olive oil
For the vegetable mixture
2

tbsp

olive oil,

drizzled in pan

2

cloves

garlic,

finely chopped or minced

3

zucchinis,

chopped

1

onion,

chopped

2

cups

frozen peas, carrots and corn mix

(or any frozen veggie mix of choice)

1

cup

water, gradually added

(add as much needed so veggies don't stick)

1

can (450g) of black beans

(about 2 cups cooked if you wish to cook them yourself)

salt and pepper,

to taste

2

tsp

garlic powder

2

tsp

dried parsley

1

tsp

turmeric

2

tsp

onion powder

1

tsp

paprika

2

tsp

nutritional yeast

1

tsp

cayenne pepper
Instructions
For quinoa
Cook quinoa as directed on packaging. Once cooked, set aside and cook vegetable mixture.
For vegetable/bean mixture.
In a large pan, add olive oil and garlic and let simmer on medium heat. Add in chopped onions, zucchini, peas, carrots and corn mix and let cook for about 20-25 minutes. Add in about 1/4 cup of water at a time so the veggies don't stick to the pan as needed. Continue to add water if veggies are dry or sticking to the pan.

Once frozen vegetables are cooked, add in black beans and let cook for about 5 minutes.

Add in quinoa and stir together with a wooden spoon or spatula.

Add in all your spices and stir everything together. Continue cooking for another 5 minutes.

Once cooked, turn off the heat, place in a serving bowl and enjoy!
Notes
How to store: Place quinoa black bean salad in an airtight container and keep in the fridge for up to 5-7 days (about one week).