Vegan quinoa stuffed sweet potatoes are a perfect gluten-free dinner idea to meal prep for the week. A delicious sweet potato filled with vegetables like spinach and peas, quinoa, and black beans makes for a simple and healthy weeknight dinner or lunch for the next day!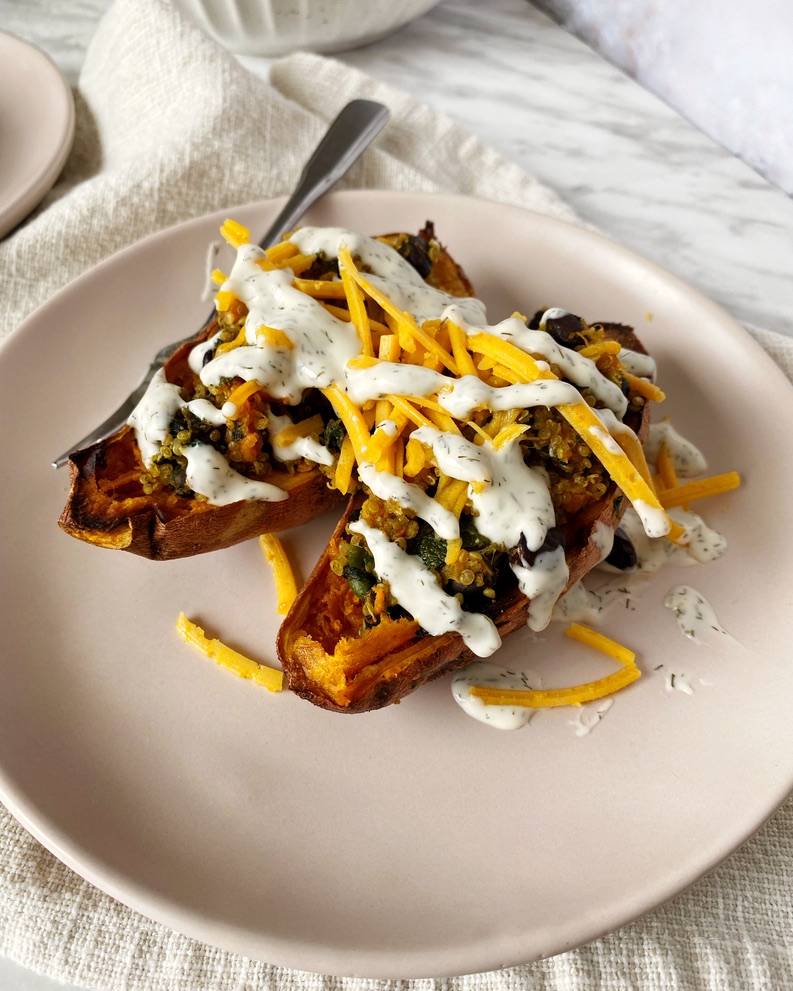 Stuffed sweet potatoes are such a delicious and hearty meal that can be paired with a side dish like roasted veggies or more potatoes if that's your jam. These stuffed sweet potatoes are a perfect balance because the quinoa can be eaten separately as a quinoa salad (I've posted the recipe on how to make this Vegan Quinoa Black Bean Salad, which makes great lunches!). Plus, having stuffed sweet potatoes is a great way to get out of a recipe rut and make something a little more fancier looking, while still being easy to make and packed full of flavour.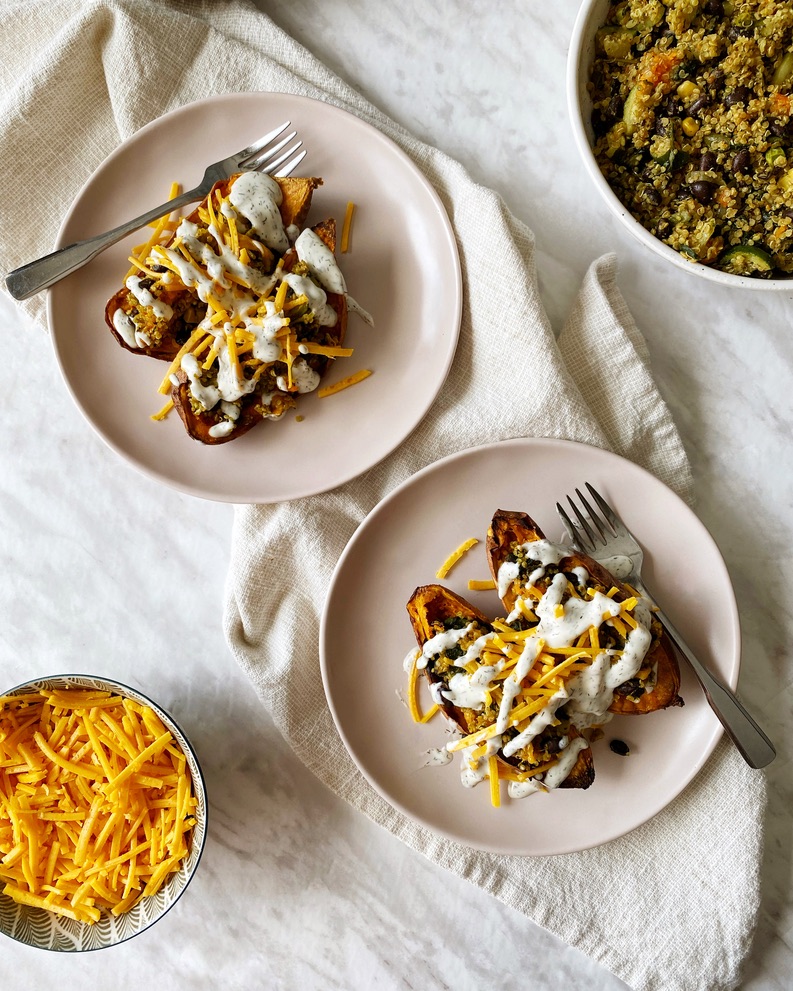 Ingredients to make your quinoa stuffed sweet potatoes
Vegan Quinoa Black Bean Salad This will be the stuffing for your sweet potatoes. I've posted the full recipe for this quinoa salad, since it's also delicious to enjoy without the sweet potato!
Sweet Potatoes. The star of this recipe! They bring out a delicious sweetness mixed with the savoury quinoa. Mixed together, this recipe is *chef's kiss*.
Salt. The main some spices will be in the quinoa mixture, which is listed in the quinoa salad recipe on my blog. For the sweet potato itself, I added some salt on the base so it had some flavour.
Vegan Cheese. I love using Nafsika's garden shredded mozzarella cheese!* It's a local brand and their cheese is absolutely delicious. It adds such a nice flavour to these stuffed sweet potatoes when sprinkled on top.
Spicy Garlic Aioli Sauce. You can either buy some type of spicy/garlic aioli sauce or make it yourself with some mayonnaise, garlic, lemon, and spices. I will definitely have my own recipe for this soon! A sauce like this pairs so well with these loaded sweet potatoes, so it is definitely a must!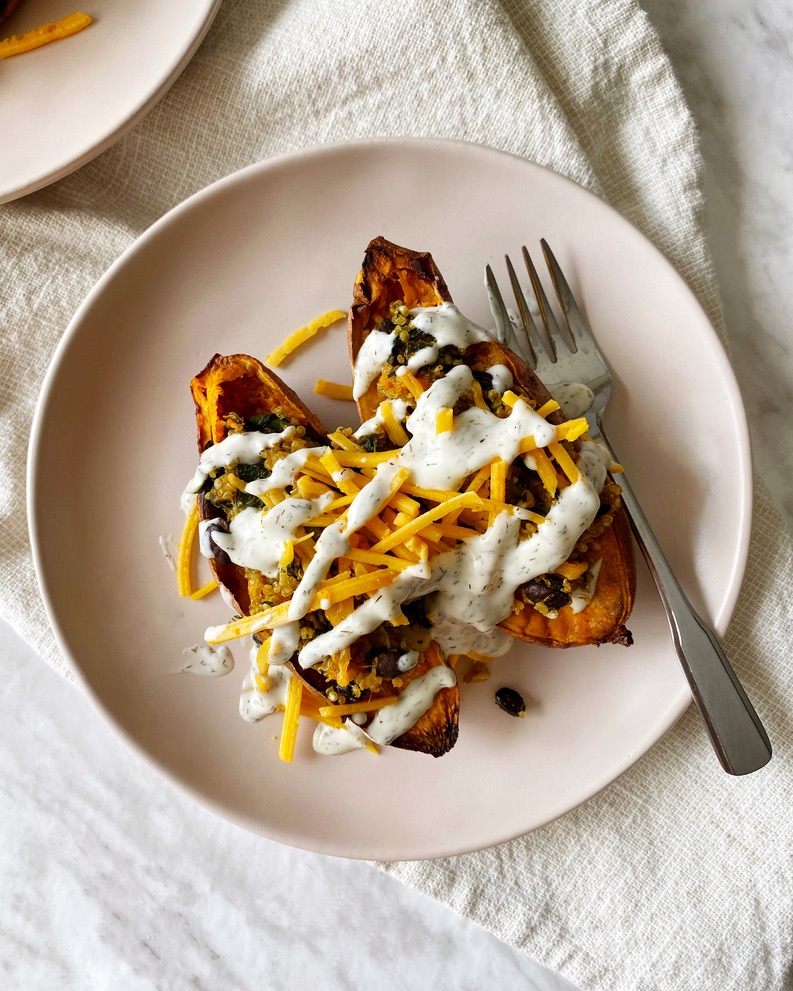 Tips to make your stuffed sweet potatoes
Pierce raw, whole sweet potatoes with a fork before cooking and drizzle with lots of olive oil. You need to cook your whole sweet potato in the oven before cutting in half and scooping out the inside. Piercing the sweet potato with a fork will allow the middle to cook completely so that it will be soft and tender on the inside. The olive oil will also help to cook the potato, so do not forget to drizzle this on your potatoes!
Choose potatoes that are not too wide. If your potatoes are large in width, it will take much longer for the middle of the potato to cook. Longer and thinner potatoes are ideal for this recipe.
Once potatoes are roasted, sliced in half, and stuffed, place back in the oven. This will allow the cheese on top to get extra crispy and toast the quinoa.
How to store your stuffed sweet potatoes
Place your stuffed sweet potatoes in an airtight container. These potatoes will last for about 5-6 days in the fridge. You can also freeze these potatoes for about one month.
If you enjoyed this recipe, leave me a review and let me know what you think! If you're looking for other delicious vegan dinner ideas, try my Vegan White Bean Spinach Burgers (which are also gluten-free!).
---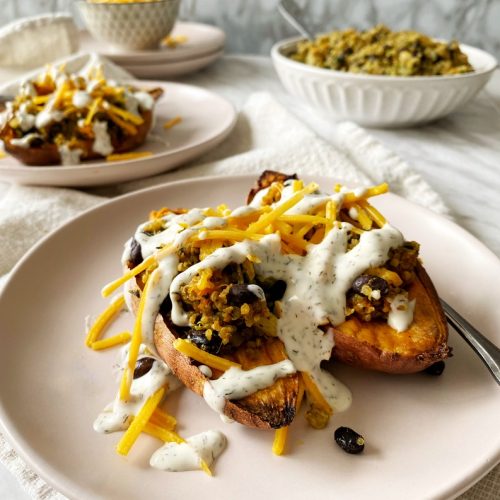 Vegan Quinoa Stuffed Sweet Potatoes (GF)
These vegan quinoa stuffed sweet potatoes are a delicious and easy weeknight meal. You can meal prep these for the week, or enjoy them for lunch the next day! Get in your daily dose of vegan protein from the quinoa and black beans, stuffed in a delicious sweet potato!
Ingredients
4

sweet potatoes

3-4

tbsp

black bean quinoa salad

scooped into each sweet potato half (recipe in another blog post)

salt,

to taste

shredded vegan cheese,

to top (optional)

vegan spicy garlic aioli,

to top (optional)
Instructions
Preheat oven to 400°F.

Wash and dry 4 small/medium sweet potatoes. Take a fork and pierce holes all around potato to ensure the inside cooks well.

Place pierced sweet potatoes on a lined cooking tray, and let cook for 45 minutes to 1 hour at 400°F. (Make sure to check your potatoes after 45 minutes and poke them with a fork to see if it goes through. If not, leave potatoes in for another 15-20 minutes).

Prepare easy vegan black bean quinoa salad stuffing while sweet potatoes are cooking.

Remove sweet potatoes from the oven and let cool for 10-15 minutes before cutting in half, lengthwise.

Use a tablespoon to scoop out some of the sweet potato and mix it in your quinoa salad. Do not completely remove all of the sweet potato inside; ensure there is a 1/2-1 inch layer of sweet potato.

Place sweet potatoes back on the cooking tray, sprinkle with salt, and add spoonfuls of your black bean quinoa mixture on top.

Top stuffed sweet potatoes with vegan cheese, and put back in the oven at 350°F for 15 minutes.

After 15 minutes, put the oven on broil (500°F) for 1-2 minutes to make the cheese extra crispy. Watch them so they don't burn!

Once cooked, remove from the oven and let cool for 5-10 minutes before enjoying.
Notes
How to store: Place stuffed sweet potatoes in an airtight container in the fridge for up to 5-6 days. Freeze for up to one month.
Link: vegan quinoa black bean salad