This vegan breakfast bagel is the perfect protein-packed option for breakfast or brunch! It takes only 5 minutes to prepare, is super filling and absolutely delicious. Made with plant protein from chickpea flour and so fresh from the crunchy lettuce. It is also so juicy from the fresh tomatoes, and the vegan cheese gets melted from the warmth of your chickpea omelette. It's basically a party in your mouth – what more could you ask for?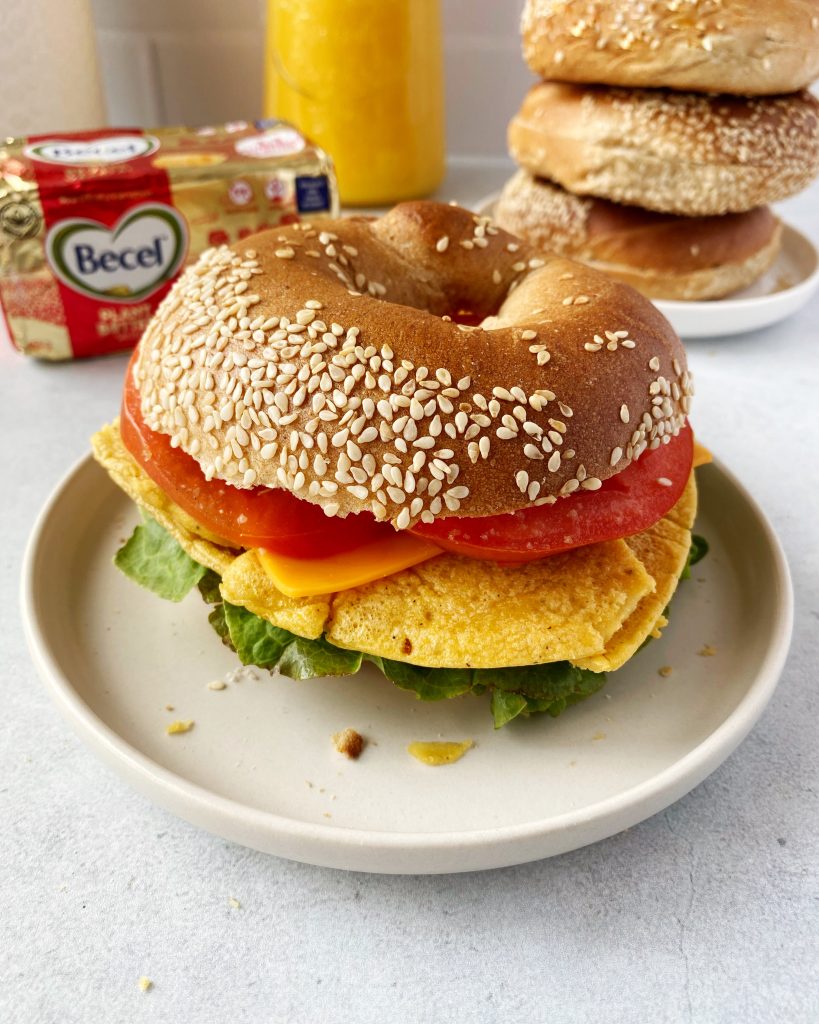 What ingredients will I need to make this vegan breakfast bagel?
Chickpea Flour + water. This is for making your delicious vegan omelette.
Spices. I love keeping it simple and using a mix of salt, pepper, and black salt. The black salt gives this omelette an egg flavour and tastes so good! You can also add some turmeric, garlic powder, onion powder, and paprika!
Olive Oil. To drizzle in your pan when cooking your vegan omelette.
Bagel. You can use any type you'd like. I went for a sourdough bagel and it was so delicious!
Becel Plant Butter. This is the best vegan butter spread to add to your bagel. It melts beautifully and is a one to one alternative to dairy butter. I love this one because it is salted so it adds an extra bit of flavour.
Lettuce. This adds some freshness and crunch to your easy vegan breakfast bagel.
Tomato Slices. Tomatoes are in season right now (August) so they are absolutely delicious! They are sweet and add so much flavour to this breakfast bagel.
Vegan Cheese. You can use any flavour you'd like, I personally love using cheddar.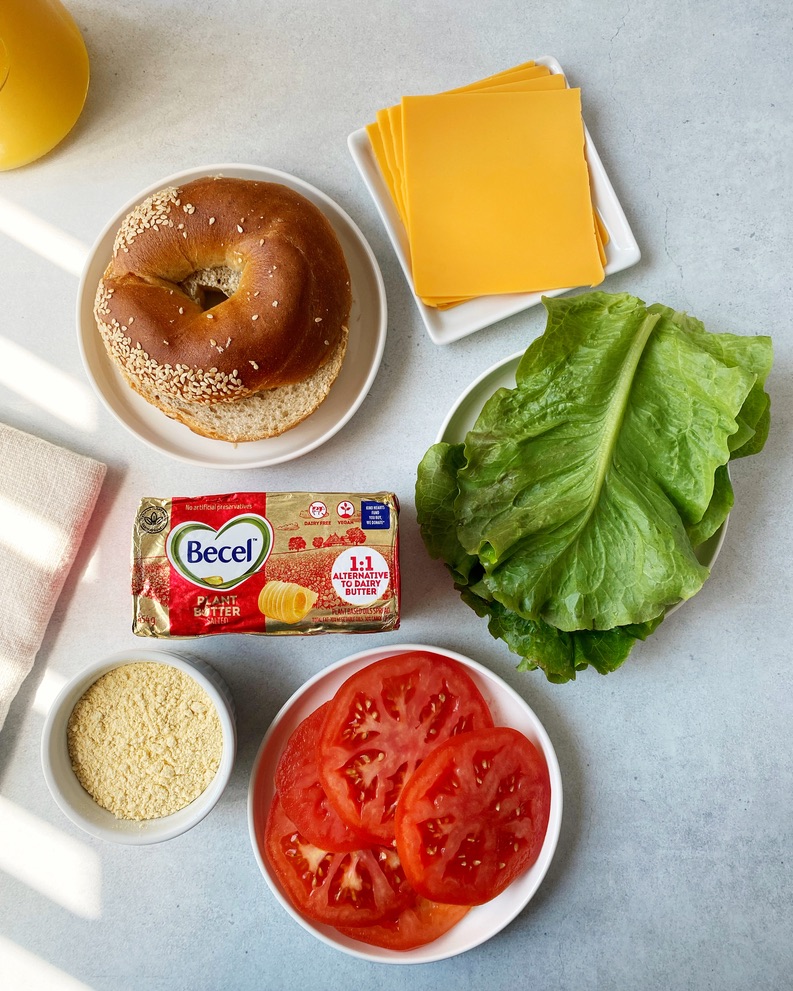 Are there any substitutions for the vegan omelette?
You can definitely use an egg replacement if that's easier for you, such as Just Egg! It is definitely easier as you can just pour it into your pan and cook! You can even make your vegan egg scrambled rather than as an omelette. You can do this if you are using chickpea flour and water as well!
How to assemble your easy vegan breakfast bagel
Cook your vegan omelette, then when you can tell it's almost cooked, place your bagel in the toaster. Once it is toasted, spread the salted Becel Plant Butter over your bagel. Then add your lettuce, vegan omelette, vegan cheese, and sliced tomatoes. Place the top of your bagel over your breakfast sandwich and dig in! You can also add some mashed avocado to your bagel which would also be very delicious!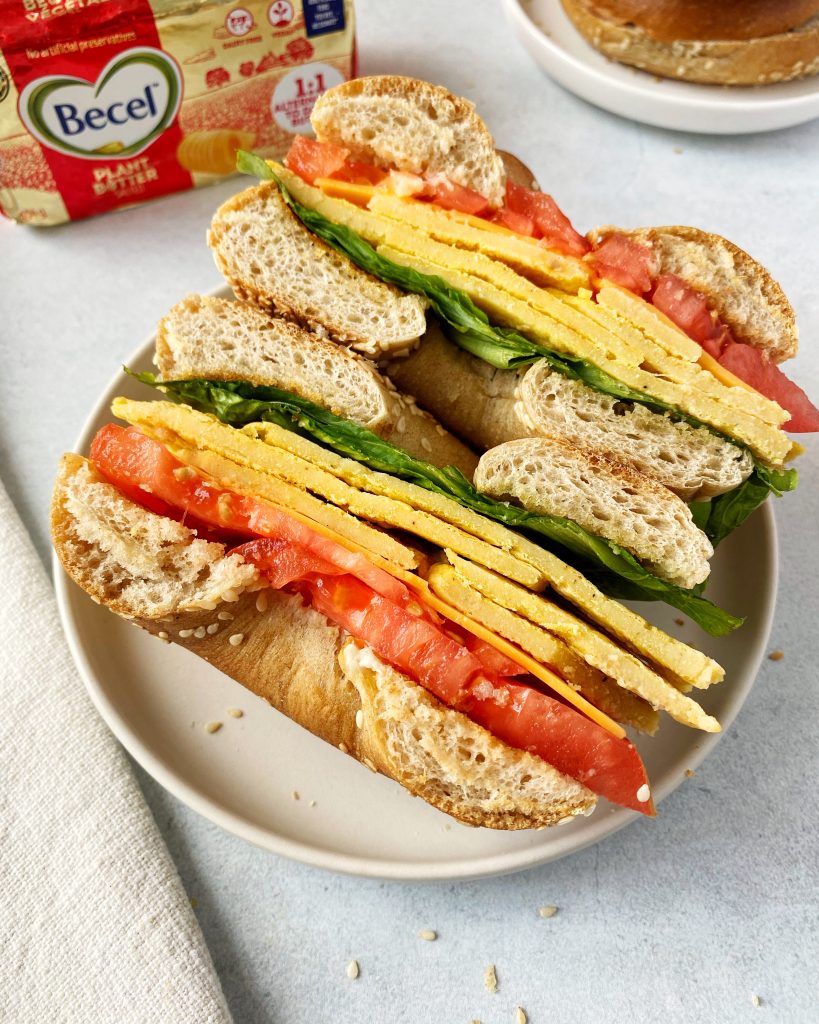 Craving more?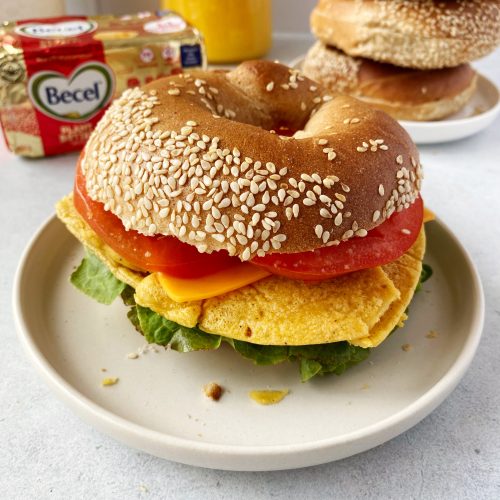 Vegan Breakfast Bagel
This vegan breakfast bagel is the perfect protein-packed option for breakfast or brunch! It takes only 5 minutes to prepare, is super filling from the chickpea flour, and absolutely delicious.
Ingredients
1

bagel of choice

(I used sourdough bagel)

1/3

cup

+ 1.5 tbsp chickpea flour

1/2

cup

water

Becel oil

to grease frying pan

Salt and pepper

to taste

kala namak

black salt for an egg taste (optional)

Becel plant butter

to spread on bagel

2

tomato slices

1

piece

of lettuce

1

slice

vegan cheese of choice
Instructions
Make your vegan omelette by combining chickpea flour and water. Whisk well then add in your spices. Whisk again and set aside.

Spray your frying pan with cooking oil and place on medium-high heat. Once pan has heated up, pour in vegan egg mixture and let cook for about 3-5 minutes or until edges become darker. Ensure to slide omelette around the pan frequently so it does not stick.

Once bottom side has cooked, use a spatula to flip and cook omelette on the other side for another 2-5 minutes. It's okay if it breaks, it still tastes delicious!

Once omelette has cooked, set aside and turn off the heat while you toast your bagel. 

Spread Becel Plant Butter onto your toasted bagel (there is no such thing as too much butter), then assemble your breakfast sandwich. Add your lettuce, omelette, vegan cheese slice, tomato slices, and the top of your bagel.

Slice your bagel in half and enjoy!
**Disclosure: This post is sponsored by Becel. As always, all opinions are my own.**