Fluffy vegan blueberry pancakes are the perfect way to kick off any morning. Made in just one bowl and all you need is a spatula or a hand mixer! It's such a delicious and cozy breakfast recipe that I love making every weekend. I am definitely a pancakes over waffles person, and for good reason!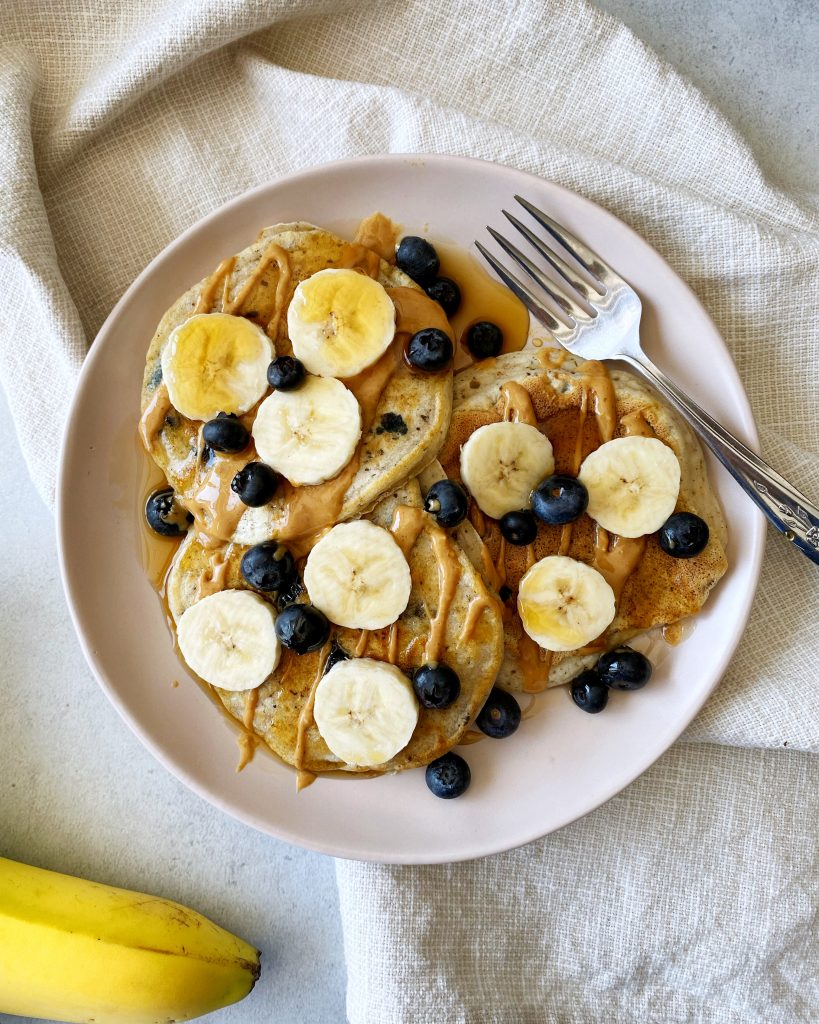 I love making super simple recipes for breakfast since I wake up starving and I don't want to spend too much time cooking (obviously want to spend more time enjoying a delicious pancake stack). That's why this recipe is so easy and only requires 1 bowl and a hand mixer. Using a hand mixer is great for this recipe because it helps to incorporate all of the ingredients together and does not leave any clumps of flour behind.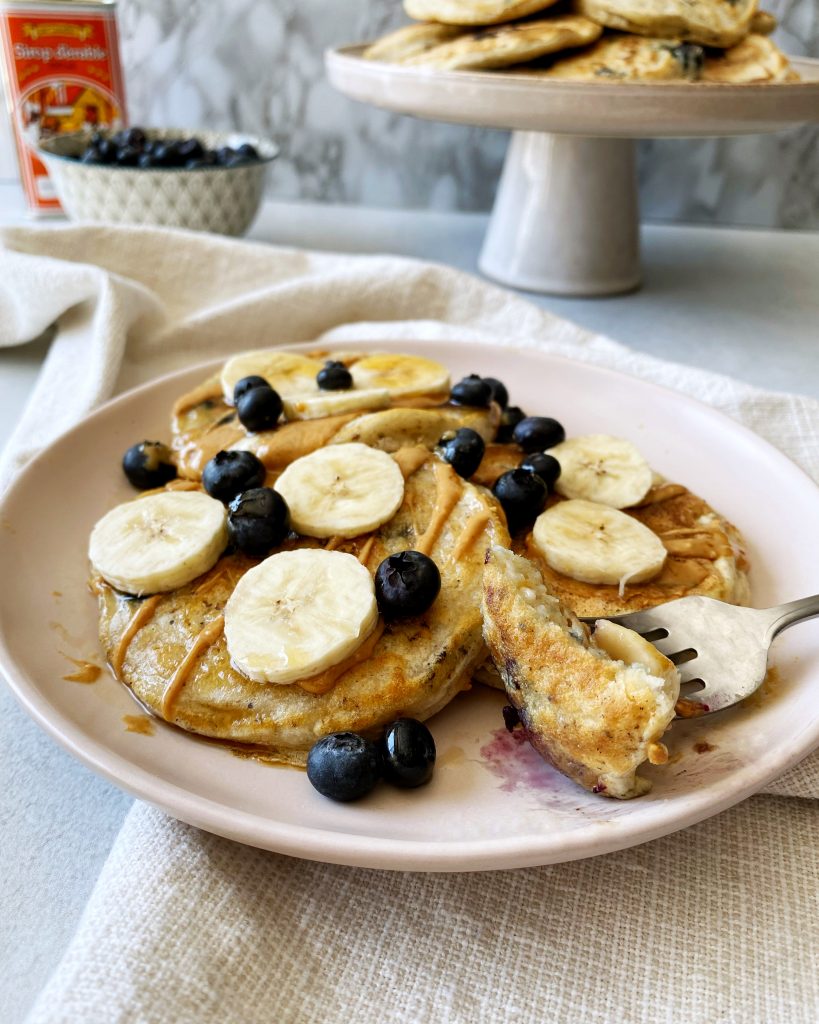 Blueberry Pancake Cooking Tip
I have made these pancakes on a frying pan before and they've turned out well, but nothing compares to cooking pancakes on a griddle! I have a bigger griddle, so I can cook about 5-6 pancakes at a time. They all cook evenly (at the same temperature) and they become so fluffy! I never cook pancakes on anything else because it is SUCH a game changer. Trust me, you need one if you want outrageously fluffy cakes for breakfast. Another tip is to use a hand mixer to blend all your ingredients together. It ensures there are no flour clumps left in the batter and really combines everything together.
Ingredients needed to make these fluffy vegan pancakes
Flax seeds. This will be your egg replacement. I wouldn't recommend using a chia egg or anything else other than flax seeds.
Applesauce. This will act as your oil in the recipe but adds a little sweetness to your pancakes!
Plant milk. You can use any type of plant milk you'd like (i.e. oat, almond, cashew, etc).
All purpose flour. You can also use whole wheat, which works very well! (you can use a 1:1 ratio).
Baking powder & baking soda. For the fluff!
Handful of berries. You can also add in some raspberries or chopped strawberries! Or you jazz it up with some chocolate chips.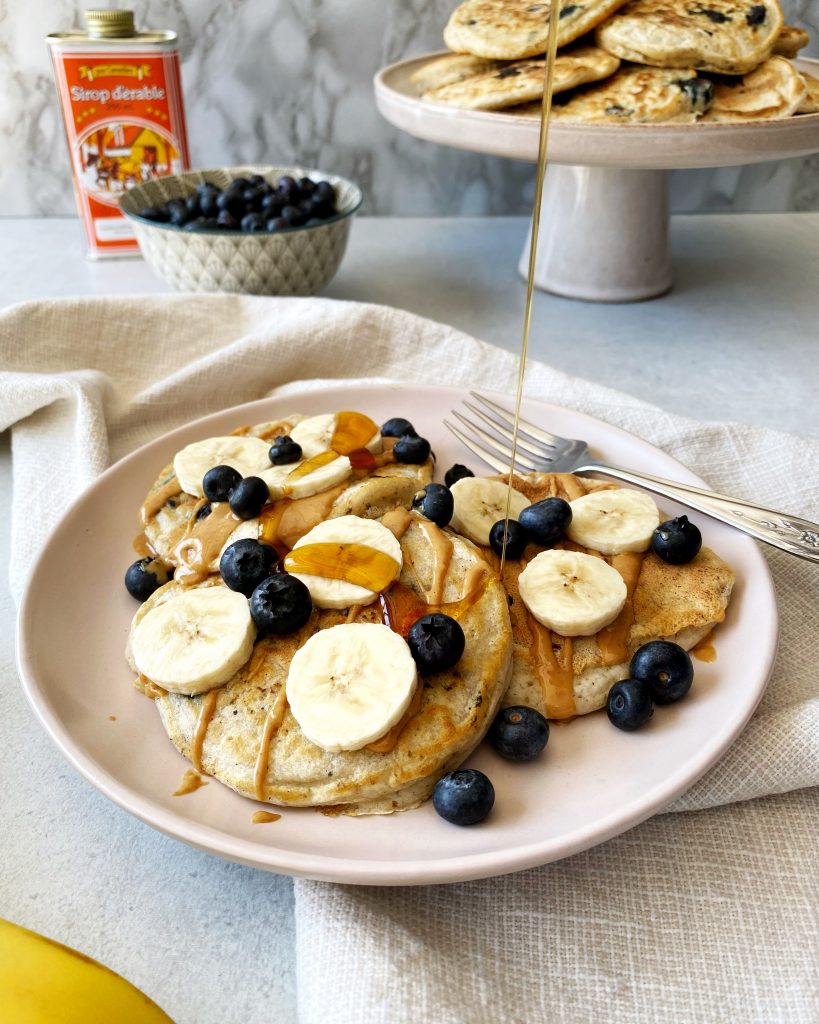 Can I substitute any ingredients in my fluffy vegan blueberry pancakes recipe?
Yes you can! If you want to make this recipe seasonal in the fall, you can swap out your applesauce for pumpkin puree! it is such a game changer and adds such a nice spice to these pancakes. You can also add in a hint of allspice when you add the pumpkin to up the flavour.
You can also use whole wheat flour instead of white flour. The recipe calls for 2 cups of all purpose flour, and I always use 2 cups of whole wheat flour and it works out just fine.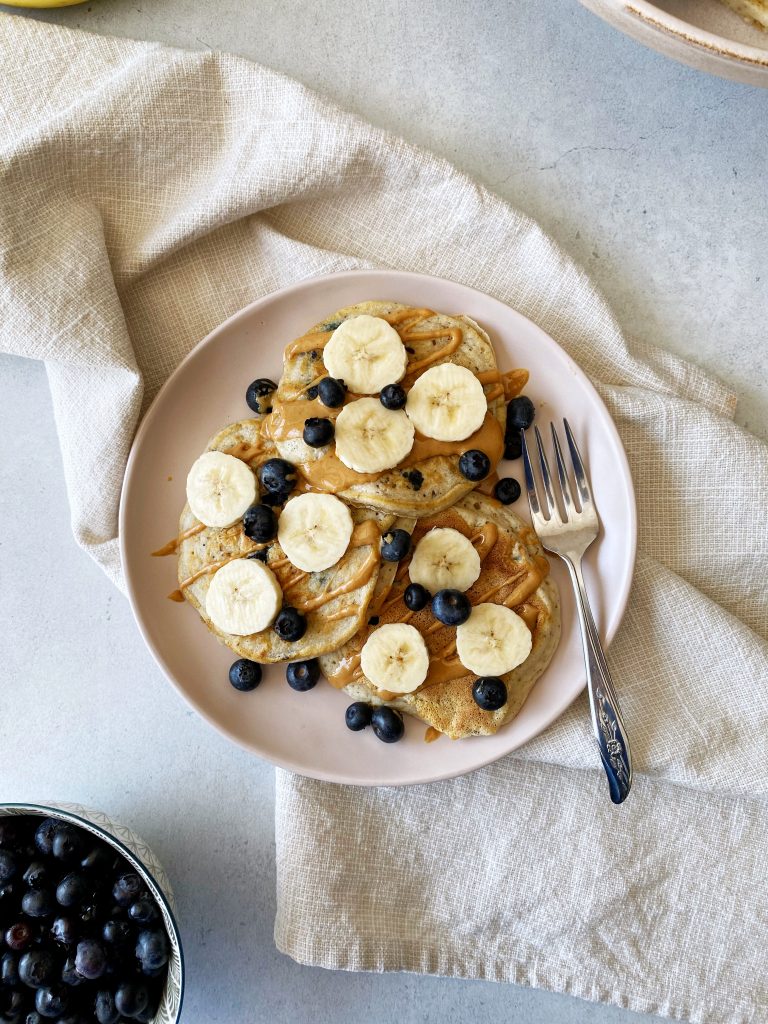 How to store your vegan blueberry pancakes
You can keep these pancakes in the fridge for up to one week. You can also freeze them for up to one month and reheat them in the microwave before enjoying!
If you're looking for more delicious breakfast recipes, try making my fluffy vegan banana muffins! They are the perfect on-the-go breakfast and are naturally sweetened and so moist!
---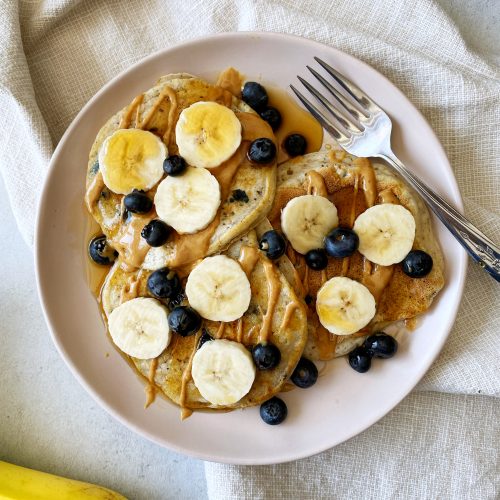 Fluffy Vegan Blueberry Pancakes
These fluffy vegan blueberry pancakes are the easiest most delicious breakfast recipe! Made in one bowl with less than 10 ingredients and comes together in just 30 minutes! These pancakes are so fluffy, thick and make the perfect weekend breakfast.
Ingredients
2

flax eggs

2 tbsp flax seeds + 6 tbsp warm water

2

cups

all purpose flour

(can use whole wheat 1:1)

4

tbsp

applesauce

(seasonal: pure pumpkin puree)

2

cups

plant milk,

(almond, cashew, oat milk, etc)

2

tsp

baking powder

1

tsp

baking soda

Handful of blueberries,

mixed in batter (about 1 cup)
Instructions
In a small bowl, make your flax egg. Let sit for 5 minutes.

In a medium-sized bowl, add in flax egg, applesauce and plant milk and mix with a hand mixer.

Add in flour, baking powder, and baking soda, and mix with a hand mixer until well combined. Continue blending until no chunks remain and everything is well mixed.

Using a spatula, fold in the blueberries.

Plug in your griddle and spray it lightly with cooking spray (you only need to spray it once at the beginning). Turn the heat of your griddle to 400ºF. Once it is hot, use a ladle to pour one scoop of batter onto the griddle. You can cook 5-6 pancakes at a time, depending on the size of your griddle.

Once the edges of the pancake start to brown slightly and bubbles form in the middle of the pancake (after about 1-2 minutes), gently slide a spatula underneath it and flip your pancakes.

Repeat steps 5 and 6 for the rest of your pancake batter.

Once your pancakes are cooked, top with nut butter, bananas, berries, maple syrup, or whatever you'd like and enjoy!
Notes
How to store: place pancakes in an airtight container in the fridge for up to 5 days. Reheat in the microwave before enjoying.
How to freeze: Place in a container in the freezer for up to one month.