Vegan pumpkin peanut butter chocolate fudge is a mouthful to say and eat! Made with only FIVE ingredients, requires no cooking time, and is basically a healthy vegan and gluten-free fudge. Need I say more? It's the perfect recipe to celebrate fall and is a definite crowd-pleaser at any party you bring this to!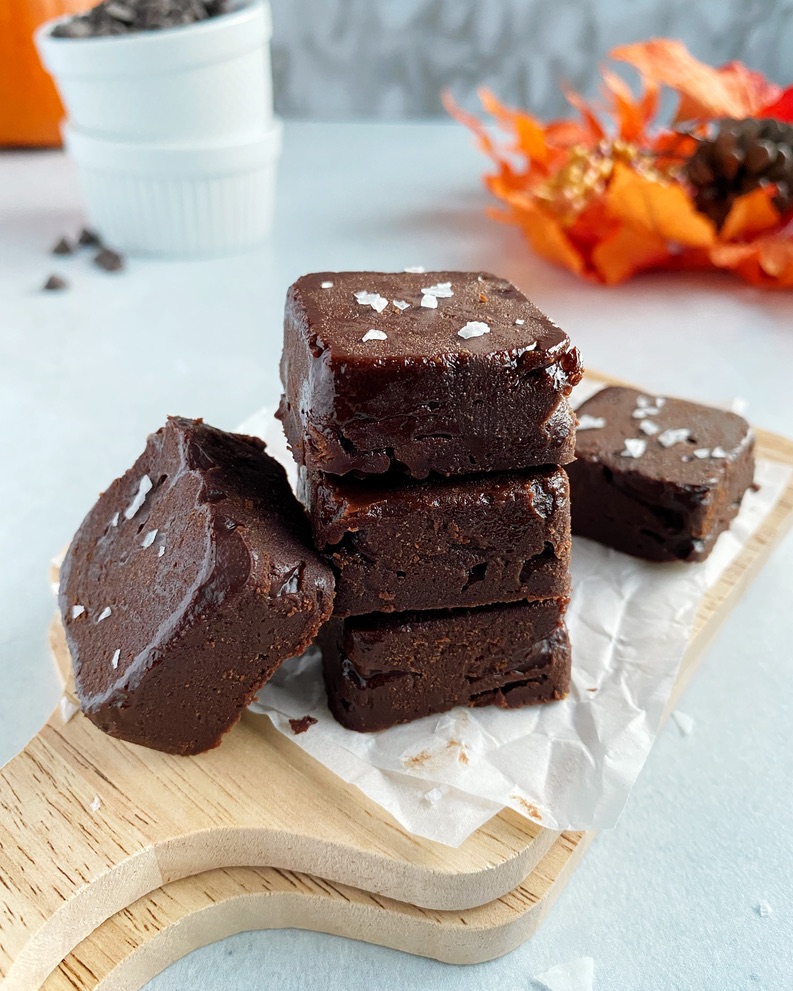 Ingredients you'll need to make your vegan pumpkin peanut butter chocolate fudge
Chocolate Chips. You can use vegan chocolate chips or a chocolate bar. I personally prefer chocolate chips since it's easier to measure 2 cups before it's melted, but you can definitely try to measure it out, or do a mix of chocolate chips and a bar!
Coconut Oil. This will be used to melt your chocolate. It makes the chocolate smooth and shiny.
Pure Pumpkin Puree. This adds a fudgy texture to the fudge. I recommend pure pumpkin instead of the pumpkin pie filling because you're getting real pumpkin puree in it's whole form and not any additives.
Maple Syrup. For some sweetness.
Peanut Butter. For a nice sweet and salty flavour! You can use smooth or crunchy peanut butter depending on if you want an extra crunch. The peanut butter can also be completely omitted if you have an allergy or swapped with some sunflower seed butter!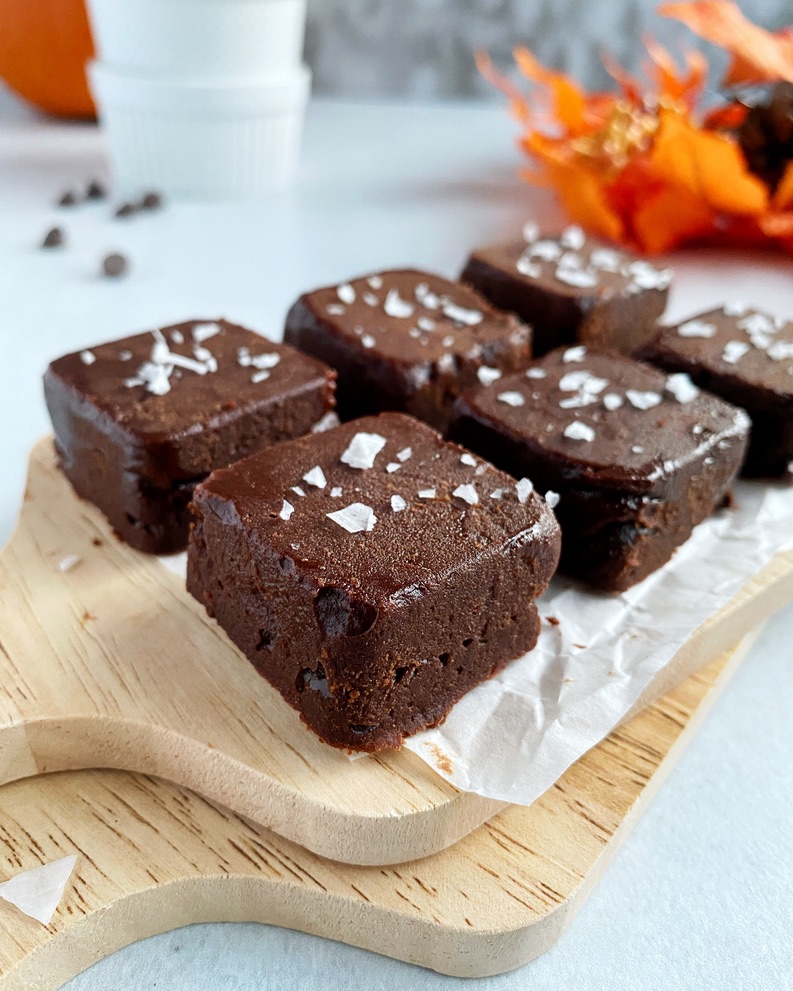 Can I substitute any ingredients in this fudge recipe?
Yes you can! You can swap those chocolate chips for a chocolate bar. You can also do any type you'd like – dark, sweet, semi-sweet – which ever flavour is your favourite! I personally love semi-sweet chocolate chips because the maple syrup makes the fudge sweet.
You can also swap out the peanut butter for any other nut/seed butter of choice. If that's not your thing, that's okay! You can completely omit the peanut butter and this recipe will still turn out great.
Tips on how to make the perfect fudge
Microwave your chocolate and coconut oil in 25 second increments. You can definitely use the double boiler technique to melt your chocolate, but I find that using a microwave is the easiest way. I put my chocolate in a bowl with my teaspoon of coconut oil and microwave it in 25 second increments. After each 25 seconds, take out the bowl and stir the chocolate. Put it back in the microwave and repeat until the chocolate is very smooth and shiny.
Ensure peanut butter is not too hard. If you're using a jar of natural peanut butter, it can get hard towards the bottom of the jar. You want to use a smoother peanut butter so it's easier to mix and the fudge does not get clumpy.
Whisk all of the ingredients very well. This may seem like an obvious tip, but you have to make sure everything is mixed well. Scrape down the sides of the bowl and make sure no ingredients remain stuck to the bottom of the bowl.

PRO TIP

: Use a square silicone mold to get the perfect fudge bites! You can use a glass baking dish to pour the chocolate in and then cut them in squares once they've hardened, but I personally love using this silicone mold! You just pop out your fudge bites once they've hardened in the freezer and they are ready to eat!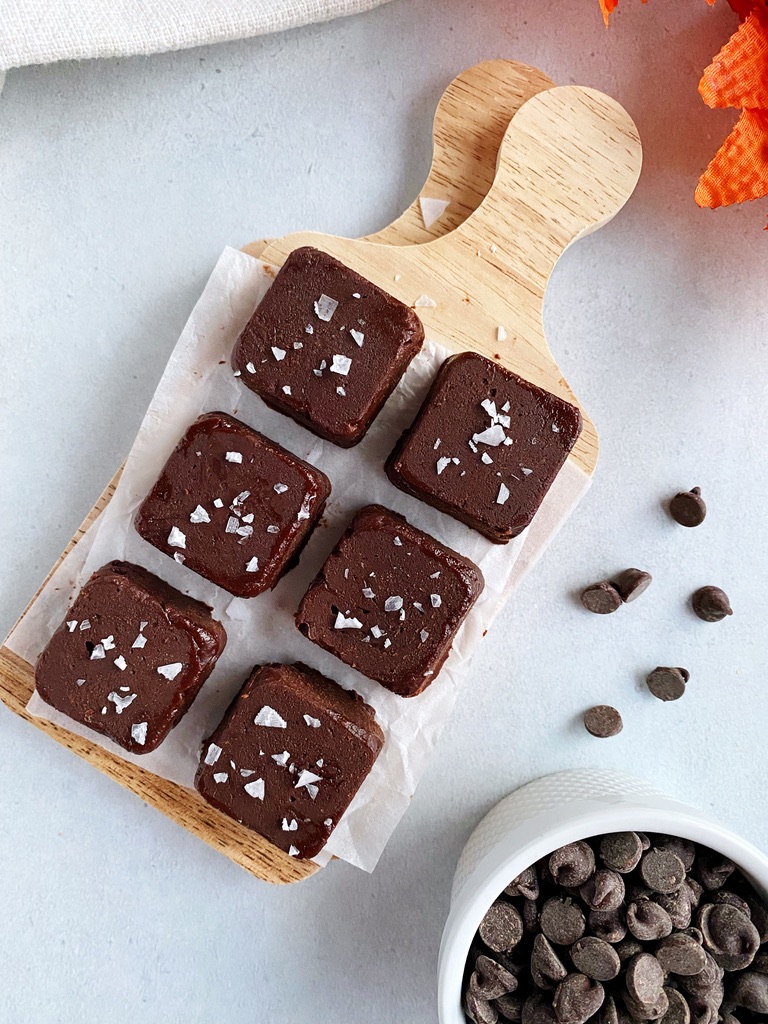 How to store your pumpkin peanut butter fudge
Keep this fudge in the freezer for up to two months. Because it is so creamy, you can eat it without having to thaw it out. Win win!
Craving more?
---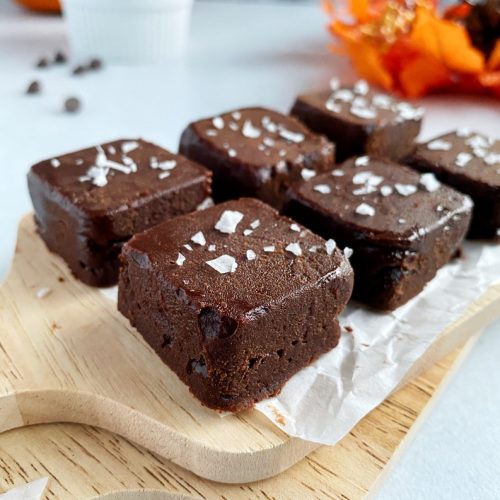 Vegan Pumpkin Peanut Butter Chocolate Fudge
This vegan pumpkin peanut butter chocolate fudge is the best no-bake dessert! It is so decadent, easy to make, and made with minimal ingredients! Keeps well in the freezer for up to 2 months, and is so easy to grab and enjoy whenever you're craving a chocolate dessert.
Ingredients
2

cups

chocolate chips

1

tsp

coconut oil

1/2

cup

pure pumpkin puree

2

tbsp

maple syrup

1/4

cup

natural peanut butter

(can use crunchy or smooth)
Instructions
Put chocolate chips and coconut oil into a bowl and melt in the microwave in 25 second increments, stirring in between.

Once melted, pour into a bowl and add in remaining ingredients. Stir until well combined and slightly thick. It shouldn't be too liquidy but also not extremely thick like a cake or cookie batter.

Place fudge batter into a square silicone tray or spread into a 9×9 inch baking dish and place in the freeser. You can also use a cookie scooper/form into balls and place on a parchment-lined baking tray.

Place fudge in the freezer to harden for at least 30 minutes to one hour, or let freeze overnight.

Remove from silicone mold, sprinkle with some flaky salt and enjoy!
Notes
How to store: You can place the fudge in an air-right container in the freezer for up to 2 months.
*I am an amazon affiliate partner, and any purchase you make on this post makes me earn a commission. Thank you for your support!*