These vegan savoury hand pies, also called panzerotti, are the most delicious appetizer you will ever make! They are so easy to prepare, can be made with store-bought or homemade dough, and stuffed with a delicious vegan meat filling, olives, and spinach. They also double as a delicious savoury snack! What's not to love?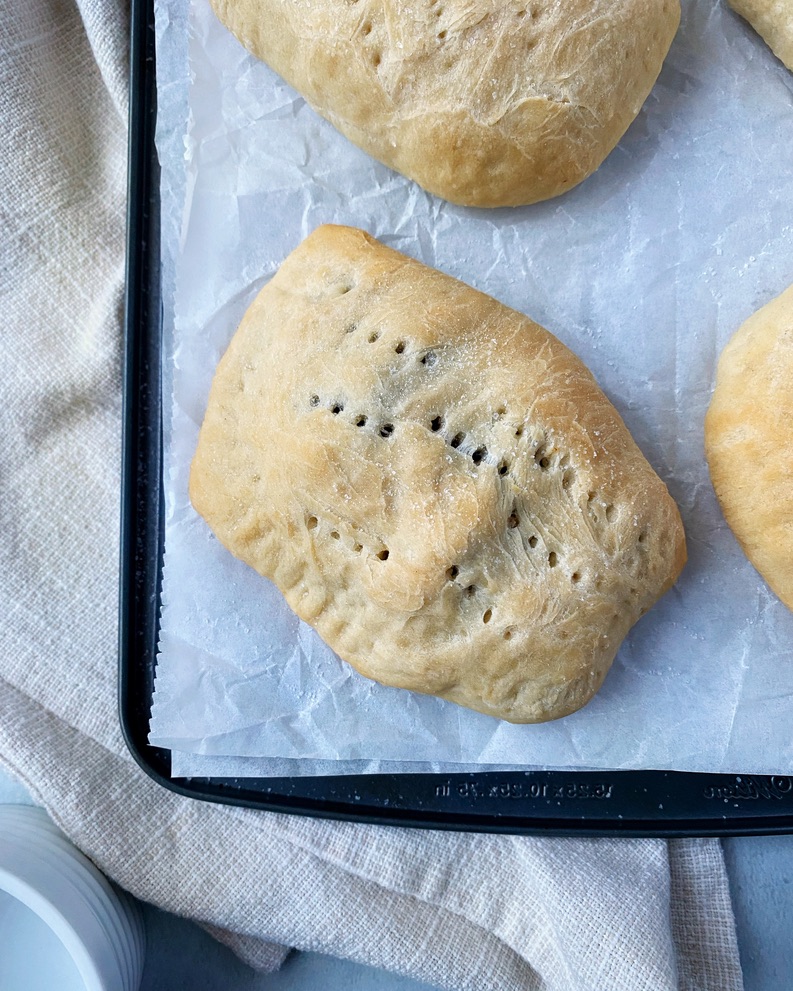 These savoury hand pies hold a special place in my heart. I have vivid memories of my childhood, coming home from school and smelling these as soon as I walked through the door knowing my grandmother spent the entire day making these. It was a tradition for my family to have these around the holidays, but when she would make these during the year, just like that, we would devour them!
Traditionally an Italian dish, these are made with ground sausage meat instead of vegan minced meat, but it's really all about the seasoning! I seasoned my veggie ground with salt and pepper, garlic, onion, parsley, and some herb seasoning and it took me back to my childhood! I almost shed a tear because it tasted exactly how my grandmother used to make them. The homemade dough also helped, but store-bought will definitely do these justice!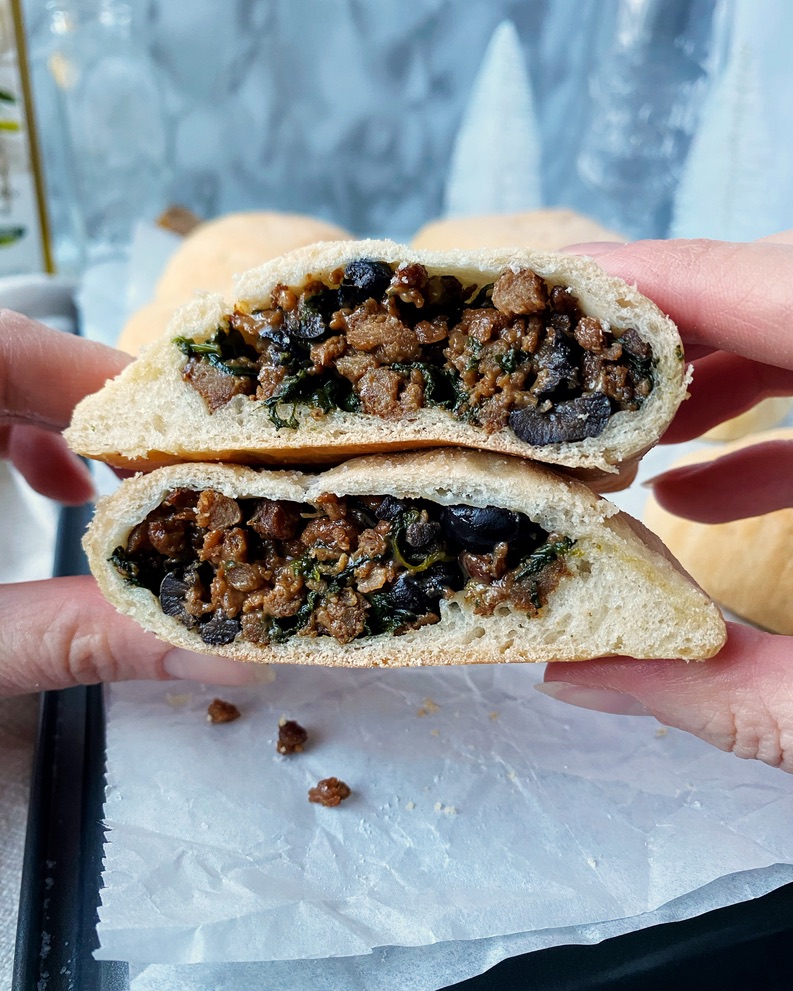 Ingredients you'll need to make these vegan savoury hand pies (panzerotti)
If making homemade dough:
All-purpose flour. I've never experimented with any other type of flour, so I wouldn't know if any other flour would give it the same texture.
Salt.
Yeast + warm water.
Sugar. To help the yeast rise.
For the filling:
Olive oil. To drizzle in the pan.
Veggie ground meat. I like using Yves.
Olives. Cut into slices. I definitely would not skip out on this ingredient because it adds so much flavour!
Spinach. And lots of it because we all know how much spinach loves to disappear when it cooks!
Spices. I used salt, pepper, garlic, onion powder, parsley, and an herb mix (I used Primal Palates – Little Palates Herb Garden spice. Optional but any salad herb seasoning will do).
Nutritional Yeast. To give it a cheesy flavour.
Vegan Cheese. Any flavour of your choice, I used cheddar.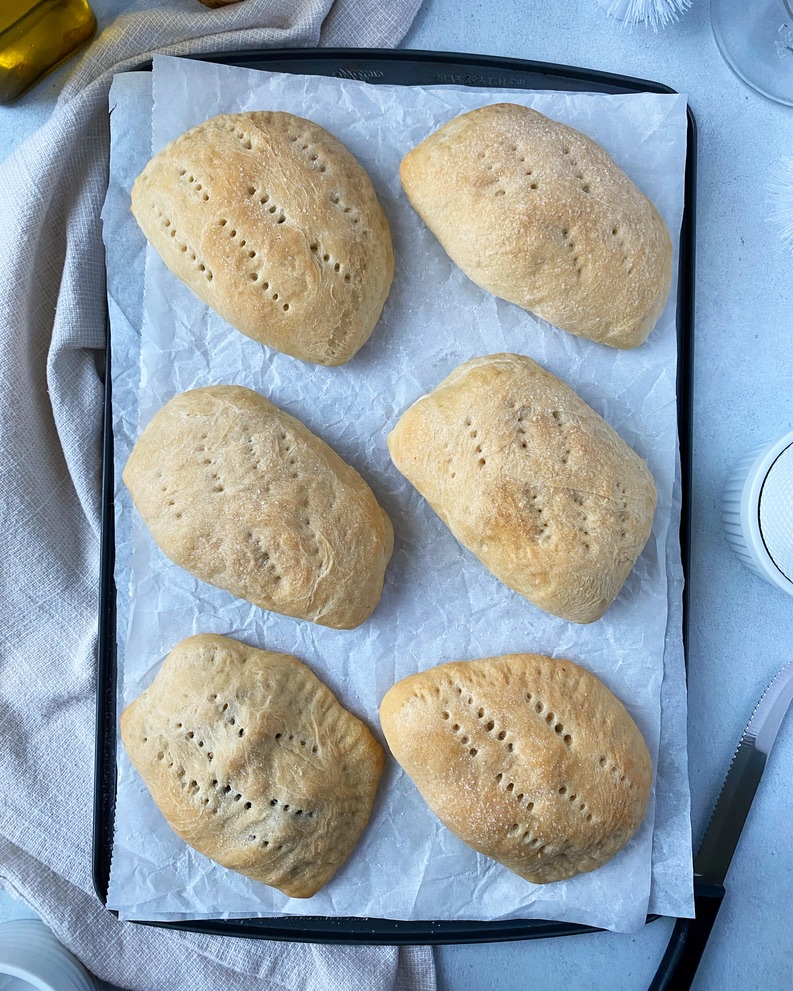 Tips on if you're making homemade dough
Make sure water for the yeast mixture is warm but not too hot. This will ensure that the yeast will grow and bubble up nicely after about 10 minutes. Ensure to cover your bowl with a small flat plate to retain the heat in the bowl.
Add sugar to the yeast mixture. This helps the yeast to bubble up nicely and helps your dough become fluffy.
Add in water to dough mixture gradually. This will help for you to see if your dough is sticky, but still firm enough to form a ball. You may need more or less water than what I've written in this recipe, so ensure to add in the water slowly and judge if the texture is good.
Place your dough in the oven with the light on to grow. This is optional, but I find it always works so well to help your dough grow nicely! Ensure your oven is OFF and keep the light on. Place your dough in a bowl and cover with plastic wrap, then drape a rag over the bowl and place in your oven to rise for about 2 hours or until the dough doubles in size.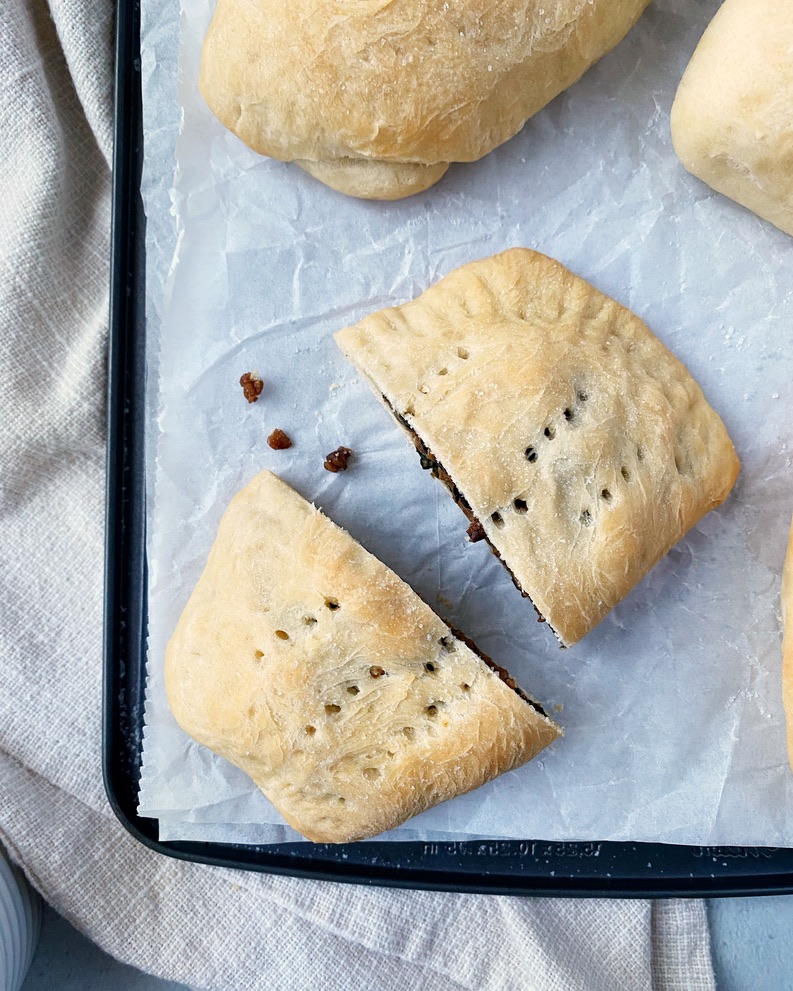 How to store your panzerotti
Place the savoury hand pies in a container and keep in the fridge for up to one week.
Still hungry?
---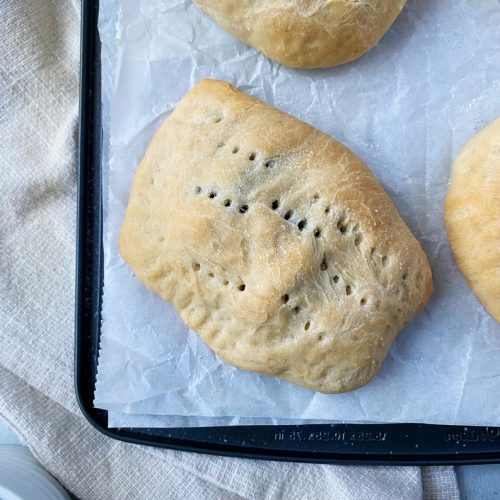 Vegan Savoury Hand Pies (Panzerotti)
Vegan savoury hand pies are the perfect appetizer! Can be made with homemade or store-bought dough, and filled with a delicious vegan meat filling, spinach, and olives. Top these panzerotti with some salt and you've got the most mouth-watering recipe!
Ingredients
If Making Homemade Dough:
5

cups

All Purpose Flour

1

Tbsp

Salt

2 1/2

tsp

Active Dry Yeast

1

cup

water,

warm and in a small bowl

1

tsp

Granulated White Sugar

1 3/4

cup

water

3

tbsp

olive oil
Vegan Meat Filling
3

Tbsp

Avocado Oil,

to drizzle in pan

1

package of veggies ground beef,

I use Yves or Gardein (340 gram pack)

1

can black olives

(398 ml can)

2

big handfuls of spinach

1

pinch

Salt and Pepper,

to taste

1

pinch

Garlic Powder

1

pinch

Onion Powder

1

pinch

Dried Parsley

1

pinch

Primal Palate Herb Garden Seasoning

(or any herb seasoning of choice)

2

Tbsp

Nutritional Yeast

Sprinkle of your favourite vegan cheeze,

I used vegan Cheddar
Instructions
If making homemade dough: (follow all steps in order)
In a large bowl, add your flour and salt to the bowl and make a well. Set aside.

In a small bowl, add 1 cup of warm water with your yeast and sugar, and cover with a small flat plate. Let it rise for about 10-15 minutes until your yeast forms a creamy foam on the surface of the water.

Add the yeast mixture in the flour well, then add in the olive oil.

Begin mixing with your hands, and add in the 1 3/4 cups of water gradually. Dough should be sticky but you should be able to form a ball with it.

Once your dough is well mixed, cover with plastic wrap or a lid, and cover with a cloth and let it rise for about 2 hours, or until dough doubles in size.
To make your filling: (do this process if you bought your dough)
In a medium frying pan on medium heat, drizzle some avocado oil and add in veggie ground meat and break up with a spatula. Let cook for about 5-10 minutes.

Add in fresh spinach, olives, and all spices except for cheese and let cook for another 5 minutes.

Once spinach has wilted, turn off the heat and add in your cheese. This helps the vegan meat stuffing to stick together.

Set aside.
If using bought dough, start from here:
Once dough has risen for about 2 hours, flour your working surface and place ball of dough on the counter. Roll out into a log shape, cover and let rise for another 30 minutes.

Using a dough cutter or knife, divide your dough into 12 even pieces.

Take one of the cut pieces of dough and either roll out with a rolling pin or your hands into a circle shape, about 1/4 inch thick.

Scoop vegan meat filling with a tablespoon and place on one side of your dough. Fold the other side of the dough over to cover the filling. Press down on the edges with a fork to seal the dough. (you can dip the fork in water or olive oil so it really holds together). Place hand pies on lined baking dish about 2 inches apart and repeat with remaining dough.

Before baking, poke the tops of your hand pies with a fork, brush with olive oil, and top with salt. Bake at 400F for 20 minutes.

Let cool for 10 minutes and enjoy!
Notes
How to store: Place in an airtight container in the fridge for up to one week. These hand pies can also be frozen for up to one month.
*I am an amazon affiliate partner, and any purchase you make on this post makes me earn a commission. Thank you for your support!*