This vegan sweet potato pear loaf makes for a perfect snack that is naturally sweetened and loaded with fruits and veggies! Sweet potato and pears may seem like an interesting mix for a loaf, but don't knock it 'till you try it! While you meal prep your lunch and dinner recipes for the week, don't forget to prep some snacks too. This loaf is loaded with vegetables and fruits so that you can get in your vitamins in loaf form (win win!).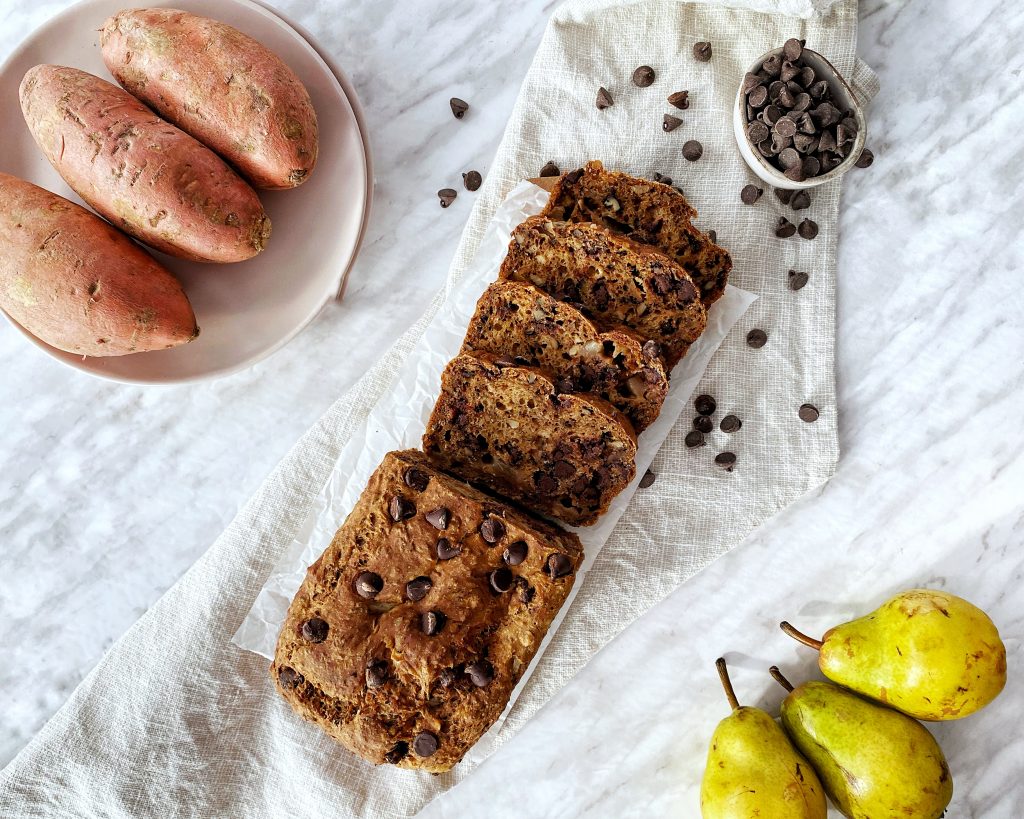 Ingredients needed to make this vegan sweet potato pear loaf
For the wet ingredients, you will need:
Sweet potato puree. For this puree, I like to boil 1-2 potatoes and then mash them. Do not add any salt or spices to it since we do not want it adding any flavour to this loaf.
Maple Syrup: this recipe only requires 1/4 cup of maple syrup for the entire loaf! It helps to bring out a little more sweetness from the applesauce and pears.
Applesauce: I like to make homemade applesauce and use it in my recipes, but you can buy already made applesauce that has minimal ingredients in it.
Almond Milk: This adds a little more of a nutty flavour to the loaf and helps make it more fluffy and soft. (You can use any plant milk you'd like!)
Chia Egg: Simply combine 2 tablespoons of chia seeds and 6 tablespoons of warm water to make this chia "egg". Chia seeds are loaded with fibre, and when combined with water become very sticky and resemble an egg. I would not recommend using a flax egg because I have not tested it with this recipe.
Chopped Pears: For the added sweetness and fruit! It wouldn't be a sweet potato pear loaf without the pears!
Optional but not optional: chocolate chips.
And for the dry ingredients, you will need:
Baking Powder and Baking Soda: to make your sweet potato pear loaf rise and become super fluffy! This loaf grows significantly in the oven, so you'll need this duo.
Cinnamon: to add a sweet flavour to your loaf.
All-purpose Flour: the main dry ingredient you will need to make your loaf. I have not tested any other flours with this loaf, but regular all-purpose white flour gives it an amazing texture.
Crushed Walnuts: For an added crunch and omega-3 boost! (along with so many other health benefits!)
Chocolate Chips: For some extra sweetness!
Tips on making the perfect vegan sweet potato pear loaf
Mix in all wet ingredients first. Combine the sweet potato puree, maple syrup, chia eggs, applesauce, and almond milk together with a hand mixer first.
Add in baking powder, baking soda, and cinnamon after adding all the wet ingredients. Add these three ingredients with your hand mixer. Then add in your flour.
Fold in your chopped pears, chocolate chips, and crushed walnuts last. Do not use your hand mixer to add in these ingredients! You want the chopped pears to stay whole, as well as the chocolate chips.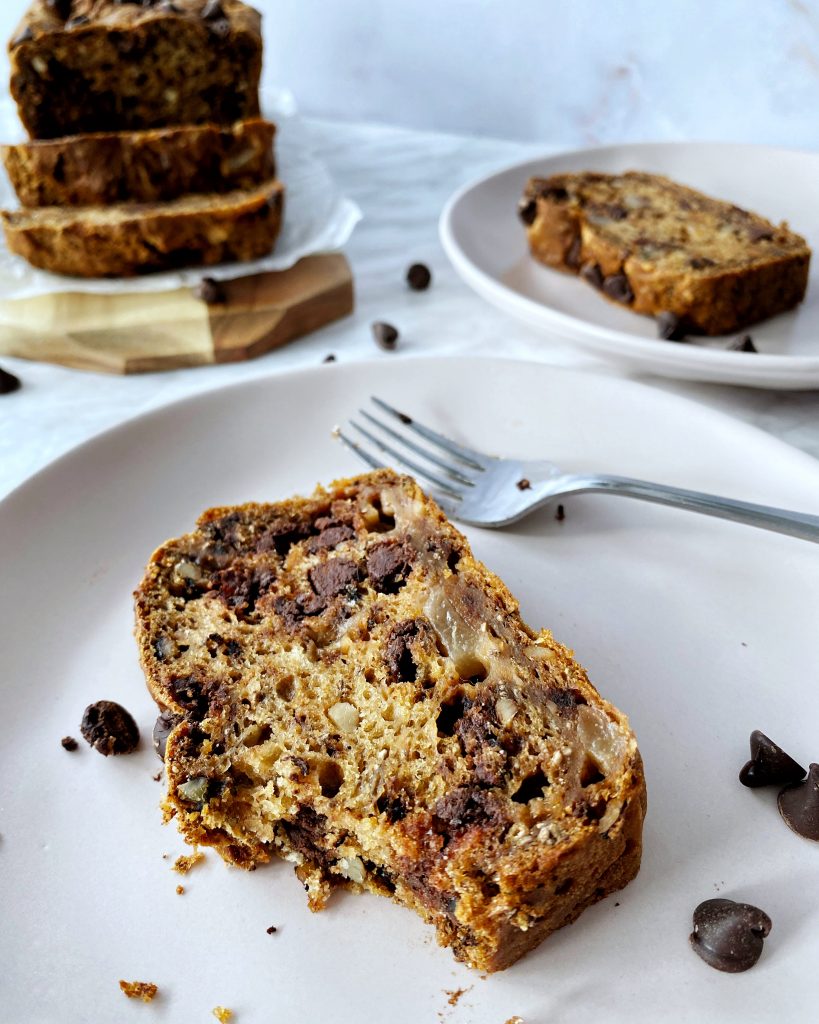 How to store your Loaf
You can place your loaf in an airtight container in the fridge for up to one week. If you would like to freeze it, you can! It can stay in the freezer in an airtight container for up to one month.
If you're looking for more veggie-filled snacks and desserts, try making my vegan gluten-free chocolate zucchini loaf! It is so fudgy, naturally sweet, and perfectly decadent!
Vegan Sweet Potato Pear Loaf
Vegan sweet potato pear loaf is easy, delicious, and so fluffy! Naturally sweetened with pears, applesauce, and maple syrup. This loaf is made in one bowl and takes only 15 minutes to make. It's the perfect snack or dessert!
Ingredients
2

chia eggs

2 tbsp chia seeds + 6 tbsp warm water

1/2

cup

sweet potato puree

1/4

cup

maple syrup

1/4

cup

applesauce

1/2

cup

almond milk

2

tsp

baking powder

1

tsp

baking soda

1

tsp

cinnamon

1 1/4

cup

all-purpose flour

1

medium sized pear,

peeled and chopped into cubes

1/3

cup

crushed walnuts

1/3

cup

chocolate chips
Instructions
Preheat oven to 350ºF.

Take a loaf pan and spray with cooking spray or line with parchment paper and set aside.

In a small bowl, make your 2 chia eggs. Add 2 tbsp of chia seeds and 6 tbsp of water and let sit for 2-5 minutes.

In a medium sized bowl, add in the sweet potato puree, maple syrup, 2 chia eggs, applesauce, and almond milk, and mix with a hand mixer until well combined.

Next, add in cinnamon, baking powder, and baking soda and mix well.

Then, add in your flour a bit at a time while mixing with your hand mixer.

Once all the flour is added to the bowl, pour in chopped pears, walnuts, and chocolate chips and fold in with a spatula.

Pour batter into a loaf pan and let cook for one hour.

Once cooked, remove from the oven and let cool for 15-20 minutes. Slice and enjoy!
Notes
How to store: place your loaf in an airtight container in the fridge for up to one week.
You can freeze this loaf for up to one month.